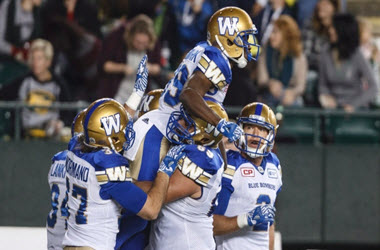 The Winnipeg Blue Bombers were able to avoid losing to the Ottawa Redblacks last night after Jovan Santos-Knox managed to recover a fumble and hold on to the ball to give Winnipeg the win.
The Ottawa Redblacks were down fifteen points with less than five minutes remaining in play to tie the game and force it into overtime. With minutes left in overtime, with Ottawa  in possession, a pass to Brad Simppoli saw the receiver fumble the ball and Winnipeg's Santos-Knox recover it giving Winnipeg the win.
Mike O'Shea, head coach for the Blue Bombers commented on the touchdown pass to Dressler saying,
"It's been said a number of times, a big-time player making a big time play when his teammates need it the most. He did just that. I thought defence didn't have the end of the fourth quarter they wanted but they battle hard in the overtime ended up winning the game for us."
Taking full responsibility for the fumble, Brad Sinopoli, speaking to reporters after the game said,
"I should have hung onto the ball and it falls on me in the end. It shouldn't have ended that way but it did and we've got to move on past it. Obviously we'd like to finish when we get into the red zone, but in the end, it comes down to simple football."
Ottawa's Lewis Ward managed to set a record in the CFL for the most consecutive field goals made in a game, but sadly, that was the only positive for the RedBlacks last night. In doing so, Ward tied the 39 made kicks record held by Rene Paredes.
The moment everyone in Winnipeg collectively exhaled. ⬇️
Rewatch last night's OT thriller.

Highlights ▶️ https://t.co/FZqB9dVXen pic.twitter.com/UMBg8gtvNL

— WPG Blue Bombers (@Wpg_BlueBombers) October 6, 2018
After the bitter loss, speaking to the press in the Ottawa dressing room, Ward said,
""It's pretty special, I expected to do well in this league. I'm not sure if I expected this because I didn't come here to try and break any records or anything like that. Right now it hasn't quite sunken in but I'm going to send some time with family, teammates and friends and then it will probably sink in."
Nichols managed to complete 27 of 36 passes and threw three touchdown passes last night. He also connected a 12 yard pass to Weston Dressler in overtime. Commenting, Nichols said,
"It was two or three different games throughout the course of the evening. We were in control for the first couple of quarters and they did a good job storming back. I felt like this team did a great job of responding. When you've got a 15-point lead with four minutes left and you see it disappear it would be easy to say we blew it. That's not the mindset of this team."
Ottawa's quarterback, Trevor Harris sent a 33 yard touchdown pass to Julian Feoli-Gudino half way through the fourth quarter to cut the Bombers lead to 32-24. Then, with a mere 12 seconds remaining in regulation time, Harris managed to get the ball to Greg Ellingson who scored a 6 yard touchdown and tied the game.
The loss to the Blue Bombers cost Ottawa a playoff spot and a post-season game at home. Winnipeg, however, gave themselves some room to breathe in a West Division that is very tight. Justin Medlock managed six field goals last night with four of those coming in the first half helping to give the Blue Bombers a 19-11 lead.
The CFL playoffs are due to begin on November 11th when the Eastern and Western semi-final gets underway. That makes the weeks leading up to the playoffs prime opportunity to get in your bets on who you predict will take the 106th Grey Cup with respected online sports betting sites offering action on the CFL.