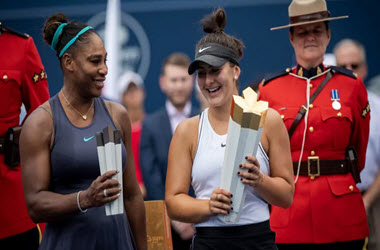 Canadian teenager Bianca Andreescu has become the first women in Canada to win a final at the Rogers Cup in fifty years, all at the tender age of 19. It took only four matches in the first set before Serena Williams requested a medical timeout and a minute more before the umpire made the startling announcement that Williams has withdrawn from the final due to medical reasons.
The win gave Bianca Andreescu her second title of the season, and while it may not have been the way she wanted to win it, it counts. Commenting on the way things played out at the Aviva Centre, Andreescu said,
"I'm speechless right now. I'm the first Canadian who got to the finals and has won this tournament since 1969. This been a dream come true, really. This week has not been easy. I've had many many tough matches."
The Mississauga native has now gone undefeated in 17 matches with the exception of those she had to retire from. Those wins included seven which were against top seeded players, and with her win today, her world rank will jump thirteen positions to 14th. Her previous best was 22nd.
The win also puts Andreescu in the front runner position for winning the Lou Marsh Trophy, which is awarded to Canada's athlete of the year. She also jumps to the top for the Bobbie Rosenfeld Award, an award for the top female athlete of the year. Also on that list is Brooke Henderson, a Canadian golfer who has racked up two wins this season on the LPGA tour and with it, set a record for the most wins by a female Canadian golfer
WTA
The Rogers Cup win was the first tournament that Andreescu was playing in after taking time off to dealer with a shoulder injury she suffered in May during the French Open. Speaking on the last few months, Andreescu stated,
"What I've been through the past two months has not been easy. I kept telling myself 'never give up.' I'm trying to look at my injury not as a setback but more of a challenge. I tried to embrace it as much as I can."
This year's tournament saw Andreescu playing more hours of tennis than any other player. Going into the final, she had already played nearly eleven hours, and in total, played 11 hour, 10 minutes after the final came to a stop a mere 16 minutes after it started. After learning that Williams had elected to retire, Andreescu began to cry after being overcome with emotion. She immediately went to Serena Williams, gave her a hug her and told the former No.1 player how she admires her. Commenting on her retirement Williams said,
"I'm not a crier, but, thank you guys. I'm sorry I couldn't do it today. I tried but I just couldn't do it, but thanks to Jehovah for letting me even come out here today. Bianca, you're a great sportswoman."
This retirement was yet another in a series of injuries the star player has endured since returning to tennis after the birth of her daughter. It was also one of several that also saw Simona Halep withdrawing during her quarterfinal match against Marie Bouzkova. The women now will head to the Western & Southern Open in Cincinnati, Ohio for the next stop on the WTA circuit. Whether Andreescu or Williams will attend in unknown, but for tennis punters, the tournament offers some good opportunities to place bets with respected Canadian tennis betting sportsbooks offering action on the Western & Southern Open.