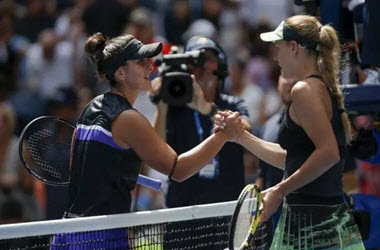 Bianca Andreescu continues to turn heads at the U.S. Open on her way towards pushing for another top finish after winning the Rogers Cup in Toronto earlier this month, and once against, it was against a former no. 1 player.
Andreescu entered the Billie Jean King National Tennis Center with resolve today as she prepared to take on Denmark's Caroline Wozniacki in the third round at the US Open. At 19, Andreescu continues to show improvement and is quickly being seen as one of the sports rising stars after she defeated Wozniacki 6-4, 6-4
The Mississauga native first gained recognition on January at the ASB Classic in Auckland, New Zealand, in what many referred to a dream run that saw her taking the runner up spot in the final, she has since gone on to win the Oracle Challenger Series, Indian Wells, and most recently, the Rogers Cup. That has seen her world rank jump to 15th and with the way she is playing, she could see that head into the top 10.
The first set was pretty even with the both Andreescu and Caroline Wozniacki exchanging hard shots, but it was Andreescu who found the right balance using drop shots, ground strokes and slices to push ahead for 6-4 first set win.
US Open Tennis Championships
The second set saw Andreescu take a commanding lead going up 3-0, but that push was short-lived after Wozniacki fought back to tie the second set 3-3. However, Andreescu didn't let that deter her focus and quickly regained the lead, one that the Danish player was unable to counter.
The door is now open for Bianca Andreescu to go the distance after top seeded Simona Halep went out in the second round and will only need to come out on top in her fourth round match against Taylor Townsend, one who is expected to be a tough competitor for Andreescu after she not only was the one responsible for eliminating Halep but also her third round competitor, Sorana Cirstea.
For tennis analysts and those responsible for setting odds with leading sportsbooks such as Sports Interaction, it could prove to be a thrilling race to the finish per se as Cirstea, who hails from the U.S is expected to see a large supportive presence in attendance. However, Andreescu it is anticipated that by the end of the tournament will sit in the top 10 in the WTA, a first in her career. Yet, if she hopes to make it to the final and win the U.S. Open, she will face some stiff challenges in the likes of Madison Keys, Serena Williams, Qiang Wang and Johanna Konta, all of whom could bring that to an end.