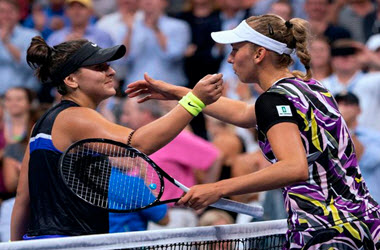 Bianca Andreescu continues her run at the U.S. Open after a comeback on Wednesday that saw the Canadian teen defeated Belgium's Elise Mertens 3-6, 6-2, 6-3. The victory put the finals in sight for Andreescu, and with one more win, she will head to her second finals in less than a month.
This was the 12th time that Bianca Andreescu has won when going to three sets and Thursday will be her first Grand Slam semifinal where she will face Switzerland's Belinda Bencic. After her quarterfinal victory, emotion seemed to cover her face as she looked up to the stands and those in attendance offering their support. After leaving the court, Andreescu took a seat in her chair and smiled. Commenting on the match, Andreescu said,
"This is honestly so crazy. A year ago I was in the qualifying round. I was suffering from a back injury. And now, what I've accomplished this year, I'm speechless. I need someone to pinch me right now. Is this real life?"
The temperature conditions were a challenge for both Andreescu and Elise Mertens due to the humidity and lack of air circulation. Adding to the challenges were bugs flying in and around both players whose sweat saw both swatting them away.
US Open Tennis Championships
The conditions being as they were, Andreescu changed her top after the first set and twice placed an iced towel over her neck, legs and face. Mertens, however, seemed to fare a little better in the heat but she also changed her clothes after the second set.
The crowds were a little late filtering into the Arthur Ashe Stadium as there were not any American players in the quarterfinal match, and Rafael Nadal due to play after women's quarterfinal, many opted to say in the lower bowl where it was cooler.
In the Canadian teens match on Monday against American Taylor Townsend American fans were less than supportive often getting noisy and only cheering for Townsend, but those efforts did little to help the defiant Andreescu who refused to let it impact her performance.
The first set it looked like Andreescu was struggling, and it was Mertens who dominated while Andreescu made unforced error and unforced error. Martens had an 82% win ratio while Andreescu was at 26. However, one the second set started, it was clear that Andreescu would not settle for second best and cleaned up her game winning game after game and putting Mertens on the defensive.
Andreescu is somewhat known for having slow starts but is also known for picking up the pace and turning it around. This season she has won 43 matches and in 17 of those, needed three sets to get the job done. This was the first year that Andreescu played in the Open, and her performance will see her world rank elevated into the top 10.
For punters, this is critically important when making assessments and placing bets on future matches at Bodog, a leading Canadian sportsbooks. Andreescu and Belinda Bencic are slated to play their semifinal match on Thursday night, and if Andreescu continues playing as she has throughout the tournament, odds are looking good she will come away with a victory.