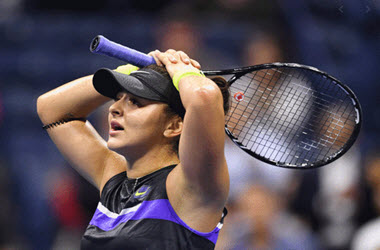 Bianca Andreescu has achieved the final step towards winning her first Grand Slam event after defeating Switzerland's Belinda Bencic in the U.S. Open women's semifinal on Thursday night in New York.
Andreescu, whose hometown is Mississauga, Ontario continued her battle to reach the finals with a 7-6, 7-5 win over the Swiss player. Once again, the teen had to battle back in the second set to regain control after winning the first set 7-6. That saw Andreescu down three matches at one point with it looking like the semi may go three sets, that was until Andreescu found her footings and won the next four matches.
Andreescu will now once again face familiar territory and play Serena Williams in the final. It was only last month at the Rogers Cup that the two met before Williams had to bow out due to back spasms, but now healthy, Andreescu will face her toughest challenge yet. Commenting on how she managed to go from losing last year to making the finals, Andreescu stated,
"Don't ask me that I wouldn't know what to say. I think it's just all the hard work I have been putting throughout the years. If someone had told me a year ago that I'd be in the finals of the U.S. Open this year I'd tell them your crazy."
The win in Toronto was Andreescu second title of the WTA season, and it also made her the first female since 1969 to win the Rogers Cup. The last was Winsor, Ontario's Faye Urban who managed to defeat another Canadian, Vicki Berner.
Williams, who has battled back from numerous injuries since returning after the birth of her daughter will be hoping to win her 24th major title when the two meet on Saturday. However, Andreescu is hoping to make history and join the ranks of those like Williams, who won their first major at the U.S. Open.
US Open Tennis Championships
Andreescu is the first since Venus Williams did in 1997 at the U.S. Open to make it to the finals in her debut. The younger and less experienced Andreescu, who has had a stellar year since winning in Auckland, was asked during an on-court interview when she felt she could begin to win big matches. Commenting Andreescu replied,
"I think it all it all started in Auckland but I think I just kept that momentum going especially through Indian Wells. I think Indian Wells was definitely my breakthrough"
The semifinal was one that seemed almost certain to go three sets as the two battled for the right to advance and face Serena Williams in the U.S. Open final. Williams earned her spot in the finals after defeating Elina Svitolina in back-to-back sets. Speaking on knowing she is to play Williams once again in a final, Andreescu said,
"It's just surreal. Like, I really don't know what to say. It's a dream come true playing against Serena in the finals of the US Open. It's crazy. It's crazy."
The first set was free of breakpoint and went on for almost an hour. Andreescu, who made twenty unforced errors in the first set, also has twenty-five winner, which was enough to take the first set. The second set, however, told a different story and saw a determined Belinda Bencic pushing hard and going up three games. Having changed tactics and using powerful ground strokes, it threw Andreescu for a loop before and kept her running to return the ball. While Bencic adding in the odd drop shot and forehand slice, it wasn't enough to keep Andreescu from fighting back and ultimately tying the set before scoring the winning shot.