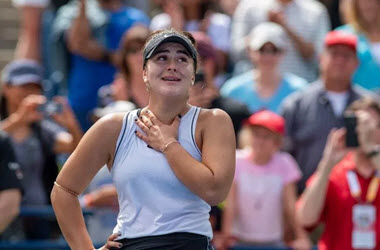 Canada's sweetheart of tennis, Bianca Andreescu went into the semifinals one step closer to achieving her dream of making it to the finals. The result could not have better if she asked after she edged out Sofia Kenin of the U.S to advance to the Rogers Cup final.
After the final game was played, Bianca Andreescu fell to her knees, brought her hands to her face in a clear show of emotion in knowing she has made it to the finals. She now sits one step away from winnings but will face a tough opponent on Sunday, which will either be Serena Williams or Marie Bouzkova. The Women's Roger Cup final will take place on Sunday, and for tennis punters, it could be a major one to watch considering Andreescu could face off against tennis great Serena Williams, and that will see sportsbooks such as Bodog setting odds, which considering William's history, both recently and in the past, could swing in either's favour.
The tennis star, who calls Mississauga, Ontario home, clearly took control of the match defeating Sofia Kenin in two sets (6-4, 7-6) in what saw a tough second set that saw Andreescu fighting through five match points. Commenting, Andreescu said,
"All the emotions I had during that tiebreaker, I think my body just wanted to let it all out. It's just so incredible that I'm in the final of the Rogers Cup. I had zero expectations coming into this tournament."
Global News
Playing her first tournament since returning after an injury to her shoulder, Andreescu can now lay claim to winning her last 16 matches and that including wins against 6 of the best in tennis. She has watched her world ranking increase from 27th to 19th and with her win on Saturday, could see that further increased.
The good news was it was her first in the tournament where she didn't have to play a third set to determine a winner. She has played almost eleven hours of tennis during this tournament, and the toll showed with Andreescu as during the quarterfinal she elected to have her legs taped to help keep her steady. Speaking post-match on the level of play she has endured, Andreescu said,
"Just with all that I've been through. The past couple of months have been so so so so tough. Just being able to be here right now is truly incredible."
This is the first time in 50 years that a Canadian woman has made it to the finals at the Rogers Cup. The last was Windsor, Ontario's Faye Urban, who defeated Vicki Berner of Vancouver in 1969, which at the point in its history, was known as the Canadian Open. Speaking on the pressure of that being the first to win a final, Andreescu said,
Andreescu's performance was strong against Kenin and brought on her drop shot to change up her game after barely bringing into play in the quarterfinal match. One of those times was in the first set during the eighth game, one that saw Kenin hitting the net in frustration as the crowds showed their support for the move by Andreescu. Speaking on the crowds, which clearly were behind Andreescu, Kenin said,
"I don't play in those kind of conditions, so it's not like I can practice. I didn't want to pay attention to that. I knew it was going to happen, so it wasn't like a shock. I obviously expected this. I tried to just block it out and do the best I can."
After sealing the first set with yet another drop shot, Kenin was able to win the first match of the second set after Andreescu made a number of unforced errors. That saw Kenin taking a 2-1 lead, but the Canadian responded and won the next five games to take over the lead 5-2.
While the crowds were in full support of Andreescu, she struggled to put an end of Kenin and gave up her 5-2 lead, eventually seeing the set tied. However, as the set was tied, Kenin took a timeout for medical treatment before returning and seeing the two battle out a long game that last thirteen minutes, but it was Andreescu who finally got the upper hand and edged out Kenin to win the second set. Speaking to the media post-match, Andreescu said,
"I try to channel that pressure into something good. I think it pumps me up even more. Really having the crowd behind me this week, I'm thankful for that because without their support I don't think I'd be in the final."