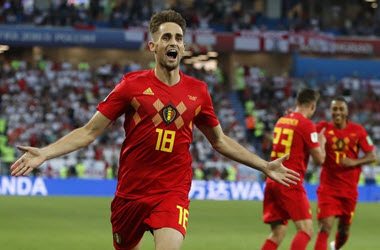 In a match the neither Belgium nor England has to win, England's loss to Belgium seemed to be of little bother and Belgium didn't seem to thrilled to be the winner either on Thursday and for a good reason.
Belgium earned an extra three points for their win against England. That win gave them first place in Group G. It was the first time to two teams have met since 1990, and as Adnan Januzaji wound up to send the ball towards the net, his curling shot went over the head of the defenders and England's goalkeeper.
It put Belgium in the lead, and for England, that was ok as both teams have already advanced to the final 16. However, the win for Belgium might not be what they hoped for as it means they now will face a tougher path towards advancing to the quarterfinals.
Belgium will now face off against Japan on Monday in their first match in the final 16. That in itself may not be tricky, but as they progress and face off against Argentina, France, Portugal and Brazil, the struggle might be one they wish they were not part of.
Commenting after the match, Roberto Martinez, the coach for Belgium said,
"I don't think you can plan the ideal scenario. You have seen big nations coming very close to elimination, or already eliminated."
Both Belgium and England scored victories in their first two matches and therefore going into Thursday's match was of no pressure. Both knew they had advanced already, but winning meant being pitted with a tougher group going forward. For England, it seemed they were quite satisfied to take the loss.
Nine changes were made in the game by Belgium. The moves were strategic in order to allow top players the chance to rest and save their strength for the games that lay ahead, and for the replacements, the chance to get participate and gain valuable field time.
On to the next one! 👊#threelions https://t.co/ymQduLbwDb

— England (@England) June 29, 2018
England chose to drop seven during the match, including their top player, Harry Kane. From all accounts, the look on England's coach, Gareth Southgate said it all as he seemed pleased by finding the U.K on the side of the draw that will be less of a challenge. England will first play Columbia in Moscow on Tuesday and then will move on to Switzerland, Sweden, Denmark, Croatia, Russia and Spain if they are successful.
In post-match interviews, Gareth Southgate, commenting on the loss said,
"We don't suffer for the loss. When you are a leader and a manager you have to make decisions that are right for your group and your primary objectives. Sometimes those decisions will be criticized … but you have to think about the bigger picture."
Thursday's match was about caution as far as Southgate was concerned. He took the proactive approach to ensure players like Harry Kane did not risk injuries as the final 16 matches are to begin next week. Other teams were in the stadium to watch the match, call it taking notes, call it just having some World Cup fun.
Southgate added that as a team, they hate to lose, but other important factors were at play. Adding, Southgate said,
"We know our strongest 11, but what's pleasing is that there are guys that have put their hand up tonight to really push for a place."
As things get underway next week, one thing is certain, the competition to advance will be fierce, and for Canadian sports bettors, the opportunities are ripe and waiting. With top Canadian sportsbooks all in contention for offering the best odds for the final 16, it only means the real winners will be those who place their bets.