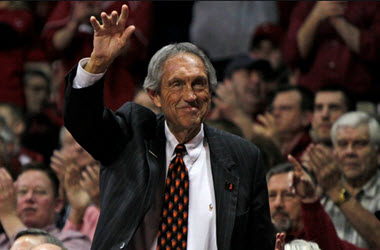 After finally being inducted into the Naismith Memorial Basketball Hall of Fame, famed basketball coach Eddie Sutton who took Arkansas, Creighton, Oklahoma State, and Kentucky to the NCAA Tournament passed away; he was 84.
After his passing was announced, his family released a statement saying his passing was on natural causes and took place at home surrounded by family.
"Dad and Mom treated their players like family and always shared the belief that his teachings went beyond the basketball court. He cherished the time he spent at every school and appreciated the support of their loyal fans. He believed they deserved so much credit in the success of his programs."
Unfortunately, Sutton's induction into the Hall of Fame on the 3rd of April came later than expected. He had been on the shortlist six other times before they finally chose to induct the start coach. It was expected by Sutton that a scandal that saw the NCAA announcing eighteen allegations in 1988 against Kentucky that brought an end to his time coaching at Kentucky was the reason behind that.
However, while Eddie Sutton resigned the following year, his resume is as impressive as they come. That includes being 37 seasons as a Division I head coach with an 806-328 record and heading into NCAA Tournaments. 25 times. He also coached four final squads in his career, and in 1978 and 86 was named coach of the year by the Associated Press.
Rex Chapman, a former player of Sutton's, commented that "Eddie Sutton was a fascinating and complicated person." Chapman added,
"He also was an unbelievable teacher of the game of basketball. I was fortunate and lucky to have learned from him. Grateful."
KJRH TV Tulsa Channel 2
In 2006, Sutton was involved in a car accident which he took a leave of absence. It resulted in his being charged with driving on the wrong side of the road, speeding and aggravated DUI, and after pleading no contest, chose to retire from his position while with Oklahoma State.
Even though Sutton faced criticism, he remained popular wat Oklahoma State and was often seen in attendance at games even while in a wheelchair. Whenever the camera showed Sutton, the crowds would cheer. Commenting on his passing, Burns Hargis the president of Oklahoma State said,
"Oklahoma State University is deeply saddened by the passing of Coach Eddie Sutton. A Hall of Fame Coach with more than 800 wins, he revived our historic basketball program and will always be revered and loved by the Cowboy family. Our thoughts and prayers are with the entire Sutton family."
That sediment was shared by many, including rivals such as Joe Castiglione. The athletic director of Oklahoma State posted a comment on his Twitter account saying,
"Seems like just a few days ago we were celebrating the news that Coach Eddie Sutton had been elected to the Basketball Hall of Fame. Now this very sad news of his passing. So grateful I had a chance to get to know him & his family. Thinking about Steve, Sean & Scott. RIP Coach."
Born in 1936 in Bucklin, Kansas Sutton began his basketball career playing for Oklahoma State under the leadership of Henry Iba. After his time as a player, he opted to take on an assistant coaching position in 1958. He earned his first Division I head coaching job with the Creighton Bluejays where he remained for five seasons before moving on to Arkansas in 1975.
Sutton's time at Arkansas saw the college naming a practice gym after him for his contribution to their basketball program. He even received a video message from Former President Bill Clinton during a ceremony honouring Sutton in 2016. The video sent by Clinton highlighted his many achievements and stated,
"Your time as coach was a defining era in Razorback basketball. You put our program on the map. You helped mold a generation of student-athletes into winners on the court and after they left. You made us think we could win again."
After Arkansas, Sutton moved on to Kentucky where he recorded a 90-40 record and two Southeastern Conference titles. Sutton returned to Oklahoma State in 1991 and remained there until 2006 before coaching his final year in San Francisco where he earned his 800th win.