Baltimore Orioles Beat The Blue Jays with Three in the Ninth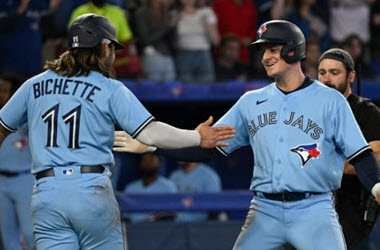 Toronto Blue Jays closer Jordan Romano gave up the opportunity a win for Blue Jays on Sunday and instead recorded a 5-4 after allowing the Baltimore Orioles to screen three runs ninth inning.
The missed opportunity was only the fifth time this season that Jordan Romano failed to get the job done. At 29, the Markham, Ontario native hasn't missed a save opportunity since June of this year and was hoping to tie the record set in 2002 by Kelvim Escobar
Interim Blue Jays manager John Schneider believes Romano is one of the best in the league, but that is didn't have it in him today.
"He's been so good, the whole year. I think his slider was a little bit flat. I think they were sitting on it. You've got to give them credit for getting a couple of knocks and working some walks."
Toronto went into the ninth inning with a one run advantage over the Orioles, but after back-to-back singles and a walk, the bases were loaded. Then, Adley Rutschma singled to left field and scored two RBIs, and after George Springer hit a double to bring home Cavan Biggio, Jesse Aguilar added a third run single.
And, it could have gone worse for Romano had Bo Bichette not hit a game-ending groundout with Springer on base. Post-game, the loss was felt by Toronto catcher Danny Jansen said he thinks they had a plan in place.
"I just think they had a plan going in against him. He went out there, and he competed. Stuff like that does happen."
For his part, Danny Jansen hit his thirteenth homer in the fourth inning to put the Jays out front 2-1 and matching his career high. Vladimir Guerrero Jr also scored his 29th home run for the season after he sent a two-run blast to left field. The double to centre field for Guerrero Jr also saw the Dominican native extending with hit streak to twelve games
The two home runs from the Jays and the impressive showing by Florida's Alek Manoah, made it look like the Blue Jays were on the verge of a sweep. However, the Jays have seen their record slip in September and now will face off against the Yankees in a triple header that has them 5½ behind the ALE leading New York Yankees.
With over 43,300 fans in attendance at the Rogers Centre, starter Manoah managed to give up four walks, strikeout five and gave up four hits. While Manoah struggled in the early innings, he ended strong and was able to minimize the damage before reliever Adam Cimber gave up a single run homer in the eighth.
The Blue Jays came out strong and gained a 1-0 advantage in the third, but had a scare after Baltimore pitcher Dean Kremer hit George Springer in the left elbow. That saw Springer taking a walk to first and to second when Kremer walked hit Guerrero Jr, and to home plate when Bichette single to centre.
With Bichette on first and Guerrero JR on second and no outs, the Orioles responded to the pressure with a triple play that saw Jorge Mateo catching Matt Chapman's line drive in time to throw out Bichette at second and Guerrero at first.
In other MLB news, punters looking for a statistical edge when betting with Canadian MLB bookies will be pleased to learn Aaron Judge recorded his 58th and 59th homers of the season on Sunday, putting the Yankees slugger within two home runs of tying the American League record set by Roger Maris in 1961.
The season record multi-homer game on Sunday was Judge's eleventh of the season, a feat only matched by Hank Greenberg in 1938 and Sammy Sosa in 1998. Judge, who leads the MLB in home runs, recorded four hits and RBIs. That includes a two run double in the 9th inning that improved his batting average to .3162. Judge' batting average now sits third in the league behind Boston's Xander Bogaerts at .3164 and Minnesota's Luis Arraez at .317.
Judge, who had not recorded a home run at Fenway Park in the last three games, recorded his first of the game in the third inning after connecting a 112 mph sinker from Jason Alexander. Then, he recorded another home run to the left field in the seventh against Luis Perdomo.