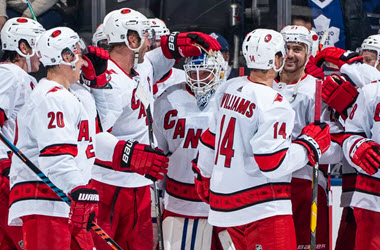 It was a night that back-up goalie David Ayres will remember for the rest of his life and it is one that the Toronto Maple Leafs wish they could forget. David Ayres was called up halfway through the second period after a series of events that saw both Petr Mrazek and James Reimer went out with injuries.
As Ayres took to the ice, it was his first appearance in an NHL game and at 42, the goalie who plays backup for the Toronto Marlies, practises with the Leafs and drives the Zamboni machine at the Coco-Cola Coliseum, it was the thing dreams are made of, and the poor performance of the Maple Leafs was not lost of Mitch Marner, who commenting stated.
"It was a dogs**t effort by myself. Too many turnovers, not enough zone time, just so many bad, bad things happened. Everything just seemed to go wrong. But now it's time to stop feeling sorry for ourselves. I'm taking a lot on myself for this sh** and I've got to be better."
That feeling was felt on the Toronto bench where they knew they were in trouble long before Ayres took over the netminding duties for Carolina. That is not good news for Leaf fans who are hoping to see things improve, especially those who place bets on their favourite team with bookmakers such as Sports and Casino.com. The dilemma began after James Reimer was out with an injury and after chasing down a loose puck, Petr Mrazek was hit by Kyle Clifford that saw him being handed a two-minute minor for charging.
Sportsnet
Mrazek eventually managed to get up and leave the ice on his own accord, but it put the Hurricanes in a bad position, and that is where David Ayres came into play. Ayres, who played as a Junior B goalie had a promising career, but after developing kidney problems and subsequently, undergoing a transplant operation, it sidelined his career.
Toronto's problems lied in the fact they simply failed to challenge the Hurricanes, even after leading 1-0 in the first period. Carolina came on aggressively after losing not one but two goalies from the actions of the Toronto Maple Leafs, and it was one they paid dearly for after an embarrassing 6-3 loss. Commenting on the loss and events of the night, Toronto's head coach Sheldon Keefe stated,
"The reality is that the game really just stayed the same. We got a couple of shots in there [late] but when the goalie switch happened, I talked to the team and said if we don't change how we're playing, they don't even need a goalie. There's no chances, there was no shots, there's nothing happening. So they didn't need a goaltender the way the game was going."
However, Toronto did get the upper hand twice on Ayres, both of which were the result of the first two shots they fired off, one of those came from Pierre Engvall and the other John Taveras. Yet, after Ayres seemed to get into his groove, the Leafs were unable to get the job done, and that was apparent with John Taveras, who stated,
"We obviously didn't handle the circumstances of the game very well. Might have been our poorest night of execution. We were sloppy and our execution was extremely low. Just because of that [goalie] situation, it doesn't mean we have to change our game and overthink how we need to play. We just didn't come close to making it hard on them that way."
The losses are mounting up for the Toronto Maple Leafs, and it seems to be the tone. The Leafs went 5 and 3 until their win over Pittsburgh last Thursday and beyond that, had one racked up a single win in their previous ten games, and then Saturday night came along to give the franchise one of their worst nights in recent memory. During post-game interviews, that embarrassment was felt by all, especially head coach Sheldon Keefe who called it "another embarrassing night" before adding,
"Embarrassing nights shock the system a little bit. We are a prideful team. But I think this game was different than the others. I don't think today was a lack of work ethic or anything like that, today was just our execution, we couldn't connect on a pass."
Keefe also added that the team's best players were far from top form last night against Carolina, a sediment that was shared by Mitch Marner, who as the alternate captain, stated that it simply is not good enough. Marner adding,
"I expect myself to be a lot better in these types of games. Knowing this was a big one, knowing that this team was going to come out like that, it's bulls*** on my part. Just using our willpower, that's something that wasn't there for myself tonight and I feel like a couple other guys, but it starts with myself, I'm supposed to be a leader and need to be way better than that."
The Maple Leafs are now off until Tuesday when they hit the road for two games, one against Tampa Bay and the other the Florida Panthers. However, the window of opportunity is quickly closing for the Leafs who are barely holding onto third place in the Atlantic Division. The bottom line is, either they get it together, or it will be another lost season for a franchise that seems intent on never doing more than giving lip service.