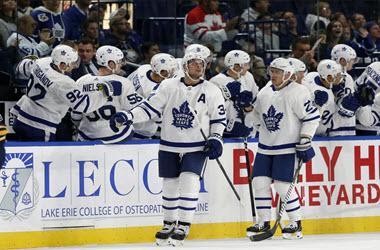 Auston Matthews has returned, and his presence on the ice is welcomed by the Maple Leafs, but not so much by the Buffalo Sabres after the star centre.
Matthews, who just came back from a 14 game absence due to a shoulder injury, scored the winning goal in overtime. While still not at the top of his game, that was not going to stop him from a final rush, and the result saw Toronto beat Buffalo 4-3 Tuesday night.
Matthews was due for a shift change when he chose to instead drive down the middle of the ice, pick up a pass from Kasperi Kapanen as he exited the ice and then sent a hard slap shot that soared past the should of Buffalo Sabres goalie Linus Ullmark. That brought an end to overtime and a win for Toronto.
Auston Matthews commented that he was lucky to get the shot while he still had a little time. Adding, Matthews said,
"I'm starting to feel more and more like myself."
For the rest of the NHL, that is not good news, but it is great news for the Maple Leafs and sports betting fans who have stuck with the Leafs. It is especially favourable for punters placing bets with our recommended sportsbook such as Spin Palace Sports, and those who register today will be welcomed with a generous signup bonus of up to $2500. With the Maple Leafs sitting in second place of the Atlantic Division and second overall.
Patrick Marleau is feeling the positive energy with Matthews back stating,
"It can only help when you add a player like Auston back in the lineup, he's definitely a game-changer."
Buffalo was leading 3-2 in the third until Marleau scored with 5:13 seconds left in regulation time. Unable to take back the lead, overtime was forced. Also scoring for Toronto was Jake Gardiner and earning an assist was Mitchell Marner, his eleventh in five games. Frederik Andersen has 38 saves to earn his fourth straight win.
SportsNet
Buffalo's Jack Eichel scored two goal, and Sam Reinhart scored Buffalo's other goal. Earning assists for the Sabres was Sam Reinhart and Rasmus Ristolainen, who earned two. Linus Ullmark has 26 saves for the night. Reinhart, during post-game interviews, said it is not easy right now, adding,
"It's pretty disappointing. We've got to find a way to get back on the winning side of things and that starts Saturday."
Reinhart was speaking about the Sabres having three days off after a playing four games in six days, one of which included a loss to the Nashville Predators. Buffalo had a solid start to the night outshooting Toronto 11-3 in the first period, and they fought hard in the third scoring twice inside of ten minutes.
Heading into the final five minutes with the lead, they failed to hold onto the lead after Marleau picked up a missed shot from Morgan Reilly and put the puck past the pads of Ullmark. This only added to Buffalos frustration, and that was made clear by Jack Eichel who stated,
"Obviously, they get the extra point and it's frustrating, but give us credit. They're sitting here waiting for us. It's not easy. And I thought we brought a lot of compete and effort."
Buffalo has now lost the last four games, meanwhile the Maple Leafs have been on fire scoring at least four goals in their last five games, and with William Nylander set to return after agreeing to a new contract, Toronto's chances of going far in the playoffs has never been better.
Coach Mike Babcock reflected on this after the Sabres game stating,
"We've got good young players and we think we're going in the right direction. Now, we've still got to get a lot better to do what we want to do. So 20 wins is great. But we've got a lot of work to do."
Toronto will next play the Detroit Red Wings before heading to Boston on Saturday night to face the Boston Bruins. Buffalo is next scheduled to play the Philadelphia Flyers on Saturday night.