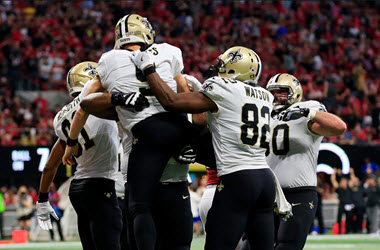 The Atlanta Falcons paid a dear price for losing track of their inexperienced receivers as Drew Brees and the New Orleans Saints defence put an end to multiple attempts by the Falcons, and it was one they could not afford to let happen.
New Orleans Saints receiver Tommylee Lewis went to the end zone and scored a touchdown, as did Austin Carr. For Carr and Lewis, it was their second NFL touchdowns, Keith Kirkwood and Dan Arnold scored their first. This led the Saints to their 10th win in a row overpowering the Atlanta Falcons 31-17 and eliminating Atlanta from the NFC South contention.
What is interesting is in the last three years, Carr, Kirkwood, Arnold and Lewis entered the draft as undrafted free agents, and neither had scored touchdowns this season before last Sunday. Speaking on the progress the four made, Drew Brees said,
"It says a lot about taking advantage of the opportunity. It's fun to watch them grow and gain confidence. We're building chemistry, which typically takes time, right? But they've been thrust into this role."
Sports Gaming Universe
The Falcons failed to get the job done once again fumbling the ball three times in the Saints end zone. New Orleans, 10-1 this season, watched in dismay as safety Marcus Williams recovered the ball after stripping Falcons QB Matt Ryan while on a third and two at the Saints 3rd yard line.
That seemed like the beginning of what became a continuous string of errors by the Falcons defence. New Orleans continued to create big plays during the second half and that an intercepted pass by Tyeler Davison in the fourth quarter.
Defensive end Cameron Jordon, who racked up two sacks in the game commented post-game that,
"I do love the way that we played today. I do love the four turnovers. I do love the sacks. I do love the pressures. I do love the quarterback hits. For all terms and purposes, we had our Thanksgiving."
Falcons coach Dan Quinn, in speaking about the Falcons performance stated,
"When you have one turnover (in the red zone), it feels like a lot. We had three down there, and that was the real story of the game."
As the season advances, and the Falcons know the post-season is a dud, what is clear to Atlanta fans and management is changes need to be made, and they can begin to prepare for those changes as they meet the Ravens on Sunday. Sports betting pundits will undoubtedly favour the Baltimore Ravens, especially those who place bets with leading sports betting sites that offer NFL action, such as 888Sport, one of our recommended NFL betting sites. Register today, and you can claim up to $250 in signup bonuses and begin your NFL betting career with the extra bankroll needed for success.