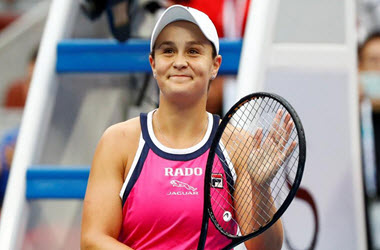 Australia's Ashleigh Barty ranked No.1 in the world has advanced to the China Open finals on Saturday after the defeated Kiki Bertens in three sets. Also advancing to the finals on Saturday is Dominic Thiem who came away with a victory over Russia's Karen Khachanov.
Thiem, who is from Austrian will face Stefanos Tsitsipas on Sunday in the men's final while Ash Barty will meet Naomi Osaka, who after defeating Bianca Andreescu in the quarterfinals continued her winning streak taking Caroline Wozniacki, who was the defending champion, in straight sets.
Thiem had his work cut out for him after giving up the first set (2-6) to Khachanov but was able to come back and win the next two sets 7-6, 7-5. Speaking on the first set loss, post-match Thiem said,
"I was disappointed to lose that set, but still, I had the feeling that I'm not playing that bad. I just got a little more aggressive. I'm really proud that I was fighting like crazy through the whole match because Karen was playing exceptionally well today."
Greece's Stefanos Tsitsipas also was successful in his semifinal match against Alexander Zverev of Germany and needed only two sets to close out the match, while Barty needed three to get the job done against Bertens.
WTA
Barty, who won the French Open earlier this year stated her team and crew members have played a part on her improving her mental and physical outlook, stated during media interviews,
"The quality from both of us was exceptional at times. I'm pretty happy with the way I was able to fight and dig in."
Also commenting on her semifinal was Naomi Osaka, who managed to step up to the plate converting five break points while at the same time, Caroline Wozniacki failed to convert none. Commenting on her serve, Osaka said,
"My serve is confusing to me. The percentage is really low but when it goes in it's very helpful, I would say."
Osaka made the win look easy winning the first set 6-4 and the second 6-2. She managed to win 76% of her first served in comparison to Wozniacki 58%. This will be Osaka's second back-to-back final with the first being the Toray Pan Pacific Open, one which she won. Osaka started the year has been up and down but hopes her performance during the Asian part of the tour will remove any doubts anyone may be having.
One thing is clear is that bookmakers have few doubts in her ability but still are favouring Ashleigh Barty to come away with the trophy. Currently, 888Sports is showing 2.20 odds in favour of Barty and 1.67 for Osaka. That may lead to the comments the Osaka made post-match stating,
"I feel like I'm still in a way the underdog, which I really love."
One thing punters should remember however is Osaka is a fighter and with a win in Japan earlier this month, is right back in the action in China, and that could be the fuel she needs to walk away with a victory over the No.1 seed Barty.