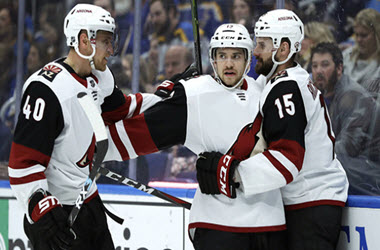 The Arizona Coyotes may have suffered an embarrassing loss to Chicago on Monday night however they turned it around last night against St. Louis and the results paid off handsomely.
Part of that success came from Darcy Kuemper and his skill at stopping 39 shots last night that helped lead the Coyotes to a 3-1 victory over the Blues. Vinnie Hinostroza, Oliver Ekman –Larsson each scored for the Coyotes as did Richard Panik.
Brad Richardson earned an assist and Darcy Kuemper also was credited with one on a night that saw him earning is 10th win out of the last 12 games and his 23rd overall for the season. Rick Tocchet, coach of the Coyotes, stated that Kuemper was great adding that,
"Even when I pulled him and I went and talked to him after the game you could just tell, he was focused. There was no way I couldn't put him back in the net. There was not much room tonight. He was big in the net tonight."
The Arizona Coyotes have now won 12 of their last 16 games and now sit above Minnesota by one point in the battle to earn the last wild card spot in the Western Conference. That is good news for sports punters looking forward to the post-season round of betting. Many top sportsbooks such as 888Sport are gearing up for the playoffs with special promotions for newly registered and existing members. Oliver Ekman-Larsson, who plays defence for the Coyotes commented on the season to date saying,
"Especially with the year we've had so far with a lot of injuries, we've battled really hard to get to where we are right now. Hopefully we can keep going and stay in that wild-card spot."
Sportsnet
Scoring St. Louis only goal was Jaden Schwartz. He was assisted by Ryan O'Reilly and Alex Pietrango. Goaltender Jordon Binnington had 19 saves for the night. Commenting on the loss, Ryan O'Reilly said,
"It's embarrassing. … It's a game we should have won There's no way those guys should have beat us."
The Coyotes set the stage early last night scoring their first in just over a minute of the first period after Richard Panik picked up an interception from St. Louis's Jordon Binnington as he was clearing the puck from behind their net. Commenting on the play, Jordon Binnington said,
"I've got to be better there. I thought I had Schwartzy on the backside there. I just missed my pass there and unfortunately it ended up in the goal and gave them the lead."
Vinnie Hinostroza scored his 12th of the season to make it 2-0 for Arizona early in the third period. Hinostroza was on the receiving end of a pass inside St. Louis's end zone from Oskar Sundqvist, who had sent it to Brad Richardson, who handed it off to Hinostroza. Commenting, Hinostroza said,
"Our whole identity is working hard. We got the puck in deep there. … Richie tried to shoot it. The puck just laid there for me and I just shot it in."
The Arizona Coyotes will next play host to Anaheim on Thursday before welcoming the Edmonton Oilers on Saturday. The St. Louis Blues will now head out on a three game road trip with stops in Ottawa, Pittsburgh and Buffalo.