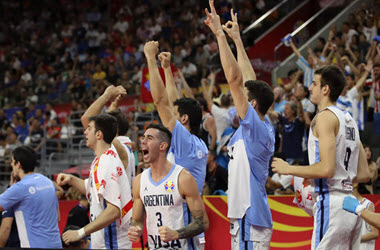 Argentina has earned its first appearance in 13 years to the FIFA Basketball World Cup semifinals after defeating Serbia in the quarterfinals on Tuesday. Argentina's Luis Scola was the big scorer of the night with 20 points followed closely by teammate Facundo Campazzo who scored 18 while earning 12 assists to close the night.
This will be Scola's first trip to the Basketball World Cup semifinals is 13 years. In his last appearance he was hoping to earn a place in the NBA, and after a 10 year career is time playing at this level of basketball is nearing an end. However, at 39, he is once again playing in the final four of the World Cup and was instrumental in Argentina's success against Serbia, who will next play Wednesday's quarterfinal winner between France and the United States.
Argentina was not favoured to win over Serbia, who were expected to come out on top of the U.S and win gold. However, Scola and Argentina had other plans and post-game stated the win was not one based on luck. Commenting further, Scola said,
"It means a lot. It just bothers me that people keep talking about miracle, keep talking about surprise, keep talking about nobody believing," Scola said. "I'll tell you, there were 22 people that believed for the last two months that we were going to be here. That's all we need, just 22. We've got them and this is far from a miracle."
A magical performance from @facucampazzo sees @cabboficial 🇦🇷 take down @kssrbije 🇷🇸 to advance to the #FIBAWC Semi-Finals! 🙌#ArgentinaGotGame

➡ https://t.co/DFBd6rpuTM pic.twitter.com/GB40n10pqq

— Basketball World Cup (@FIBAWC) September 10, 2019
Serbia's Bogdan Bogdanovic was its top scorer racking up 21 points while Nemanja Bjelica added 18. Serbia's Vasilije Micic, a key member on the team only played 18 minutes after losing his mother earlier in the week. Commenting on the game, Nemanja Bjelica said,
"We put a lot of work in this summer. It's hard. But it's basketball. There are more important things."
It was clear early on that Serbia was behind as Argentina took an early lead and with the exception of a short time in the fourth quarter kept it. That brief moment came when a 3 pointer was sunk by Serbia's Marko Guduric and another by Bogdan Bogdanovic put Serbia within six points.
However, on the next possession, Argentina Campazzo scored a two pointer to bring their lead back to eight, and with under a minute left in play, Serbia was unable to close the deficit. Commenting on Campazzo's contribution, Serbian coach Sasha Djordjevic stated,
"Campazzo absolutely dominated the game. Absolutely dominated the game. This is his victory."
Scola, on the other hand, believes it was a team effort stating that he feels they played a good basketball game, are a good team, have played a great tournament and therefore deserve to win. Punters hoping to catch the semifinals can tune in to live streams at leading sportsbooks such as Sports Interaction on Friday at 04:00 and 08:00 GMT.