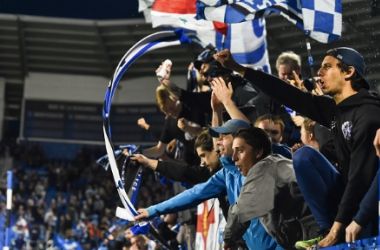 "We haven't finished our decisions on the matter yet, but yes, there are different mechanisms to protect in a different way and to better prevent damage," Leduc said. "In this case, it really was ice. Snow doesn't damage but instead acts as an isolation. We had a set of events this winter where there was a lot of freezing and melting, that wasn't a good start."
"For sure we will have to adapt to the new realities," Leduc said. "If we're asked to prepare the field for March, we'll be ready for it and we will try to prepare it in the best conditions."
Change, change, change
As reported by Pro Soccer USA, these are the kinds of things that some folks within the Montreal Impact franchise are worrying about – in addition to MLS Soccer reporting that they're looking to hire a few more higher-ups behind the scenes. While this is all well and good in regards to the longevity of the club at the highest level in the MLS, let's face it, a lot of fans just don't care.
What fans do care about is the team's third place standing in the Eastern Conference. Over the course of the last few weeks it has been clear to see that the Canadian side have been on a real push for the top of their conference, to the point where a lot of fans are even considering them to be dark horses in the race for the MLS Cup.
That'd be exciting for a lot of reasons, but predominantly because it's interesting to consider the possibility of another team in Canada flying the flag for the nation. Toronto have been the top dogs for longer than we can remember, but with Montreal officially coming into the conversation back in 2012, it always felt like a matter of time before they started to put everything together.
What's next?
They've managed to enjoy a few successes in tournaments like the Canadian Championship and Champions League, but let's face it, the MLS is the big one they'd want to reign supreme in. Sure, they're still pretty fresh as an expansion team and are continuing to grow their fanbase as a result, but you can't try and argue that they aren't heading in the right direction – because it simply isn't true.
Their recent defeat at the hands of Orlando City kind of tells you how much further they've got to go, but in terms of this season specifically, they've set themselves up really nicely. This league is a marathon not a sprint, and the nature of the playoffs allows for teams to stumble a few times before really picking up the pace as we get towards the nitty gritty of it all.
We're big fans of how the Impact conducts themselves on the pitch, but off of it, it does feel like they need a bit more of a soul. They aren't exactly selling out stadiums right now, and they have to stop and ask themselves why.