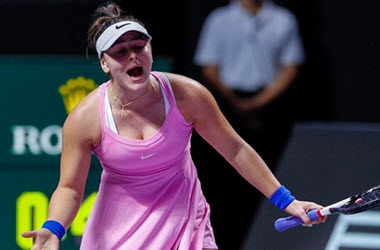 Canadian Bianca Andreescu suffering from a lower back injury lost her opening match in the WTA Finals on Monday to Simona Halep in three sets and will now need to fight to advance or decide if she is healthy enough to stay in the tournament.
The Mississauga native lost to Simona Halep 3-6, 7-6 (6), 6-3 after the No. 5 seed was able to get the advantage during a match point. Andreescu was clearly struggling to move freely during the third set and Halep was able to gain the advantage after winning losing the first set and winning the second. After the match during media interviews, Andreescu said that her back her and when asked if it could impact future matches, the U.S. Open winner was non-committal.
Andreescu, who is currently seeded 4th is part of a group of eight battling it out for the US$14-million end of season tournament. At the end of each round robin, two will advance, and in the next stage, Simona Halep will play Elina Svitolina while Bianca Andreescu will face off against Karolina Pliskova. Andreescu, who was clearly disappointed with the results stated when asked about the match,
"Not much to say really. It was a good match. She fought really hard. I didn't take my chances in the second set, so I'm really disappointed about that. I really don't want to blame my back, but I felt like I didn't have the same power (in the third set) as I did in the first and second set," she said. "But I fought well with what I had in the third. I'm proud of that. Still, pretty disappointed."
WTA
After going on a 17 match winning streak, the Canadian has lost her last two matches and her first back-to-back losses since the summer of 2018. Monday was the first time the two had played against each other, and for Andreescu and her family being from Romania, it was nostalgic as she spent time in the country during her early years. She also knew Halep is a Grand Slam winner and added during interviews,
"I didn't feel intimidated at all stepping on the court. I know I looked up to her a lot, so being able to play her was really fun. Maybe I'll get to play her again here, get my revenge."
While Bianca Andreescu may have been suffering with back issues, she didn't make it easy on Halep who while serving in the second set's twelfth game has to fight off a match point. Halep herself also had to deal with her own issues seeking assistance from medical staff to have her foot treated. Commenting on the match challenges, Halep said,
"Today was a challenge because she's almost ten years younger than me. I was really proud of what I did after having a back injury for almost a month."
Halep replied on multiple visits from her coach to help her get the job done while Andreescu, who is the first Canadian women since 2014 to have made the WTA Finals chose not to call up her coach at all.
In other WTA Finals news, Ukraine's Elina Svitolina, the defending champion, pulled off a two set win over Karolina Pliskova. After the two exchanged service points during the first set, Svitolina manage her seventh point conversion and earned the first set win. Speaking on the match and its extended tiebreaker, Svitolina said,
"You tell yourself to stay in the moment. You just try to play one rally at a time, to don't rush. Even when I had the chances to finish the set, because there was few, I thought I could play better."
Pliskova also commented post-match stating,
"I think that decided all match. Even though I had some chances in the second set, too, it was a big part of the match, the first set. Everything what I just won was because I made a winner or because I was pushing her. Overall I think she didn't give me many mistakes."
The match was not how Pliskova had hoped as she has, in the past, won all three of her previous WTA Final opening matches. She also leads the WTA with four titles this season including wins at Zhengzhou, Eastbourne, Rome and Brisbane. Whether she is able to recover and win her second match and see a third match to determine who will advance will be seen.