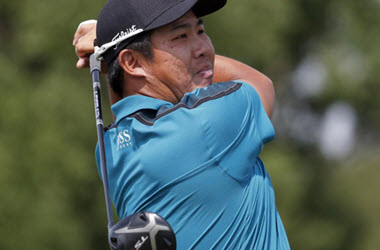 After a first round rain delay and the resuming of play on Friday, An Byeong Hun managed to gain ground finishing the morning 3-under 66. The South Korean then went onto the afternoon in the second round to 6-under 66 to take the lead before the second round was stopped due to darkness.
Byeong Hun began round two at a blistering pace scoring four back-to-back birdies to take an early shot lead on Friday before tournament officials brought an end to the round due to it being too dark to continue. The late second round start was due to round one being halted due to rain on Thursday. Commenting on his back-to-back birdies, Byeong Hun said,
"I was on a bit of fire yesterday. I finished with three birdies. Was a bit disappointing that they blew the horn because I was especially in good shape and I had two par 5s coming in. Two 66s, that's not bad. It was solid apart from one shot I hit in the water."
The fifth hole didn't go as well as the first four for Byeong Hun who hit a bogey after his shot went into the pond. However, Hun still managed to shoot a 31 on the front nine and in the back nine, added two more birdies to end the second round at 12-under 132.
PGA
Tom Hoge, who had the lead before play was halted on Friday scored a 70 dropping four shots behind the leader. J.T. Poston also ended the round with a 70 that after ending the first with a 64 and George McNeill ended the day with a 70 sitting 3 above par.
Canada's David Hearn ended the round tied for 58th, while Burlington, Ontario's Michael Gligic was tied for 73rd and Listowel, Ontario's Corey Conners was tied for 84th. Abbotsford, B.C's Nick Taylor and Surrey, B.C's, Adam Svensson both failed to finish before play was suspended as was Australia's Cameron Percy and Ireland's Seamus Power.
Each has seven holes left to play and will resume their position on Saturday when the second round resumes. The big question is if the weather will co-operate, which will need to be the case due to the new PGA rules that only allow the top 65 to move on to the next round. The new rule was felt by California's Akshay Bhatia, who was making his debut as a pro. Commenting on not making the cut, Bhatia said,
"I know I can compete out here. I shot under par in my first go-round as a pro. Just got to do what I need to do and say it with a smile."
Byeong Hun will need to hold onto the lead when play continues if he hopes to lead after 36 holes, one he achieved only once in his pro career. That came at the Wyndham Championship two months ago, but he was unable to hold onto that lead watching as J.T. Poston took over and became the eventual winner. However, after coming from behind in the first round and remaining hot in the second, he has been made par on every hole except one. Yet, he is doing everything else right hitting an eight foot birdies in the opening hole of the second round, an eighteen footer on the second and another eight footer on the fourth hole. Hun, while speaking post-round to the media stated,
"If you hit it well and in the position I think you'll have plenty of birdie chance because the greens are … they're not soft, but they kind of stop dead, so they don't spin as much or they're not as firm as I thought it would be. I think you can fire at the flag and it stops within couple feet. Definitely see a lot of birdies out there. I definitely need a lot of birdies on the weekend as well because people can make birdies out here."
Mexico's Carlos Ortiz improved to end the round at 8-under par as did American Harris English. American Brandt Snedeker, who is ranked 41st in the PGA is sitting at 6 under however could improve on his final two second round holes, while winner of the Greenbriar, Joaquin Niemann finished the round at 4 under and is at risk of being cut unless his final two second round holes go well.