Nunes vs. Aldana Draws Sell-out Crowd For UFC 289 In Vancouver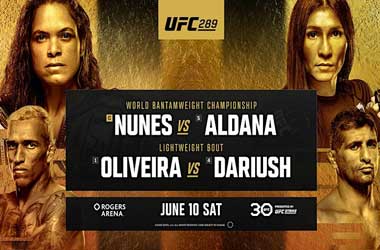 Summary
UFC 289 will take place in Vancouver, Canada on June 10
Main Event opponent change does not deter interest amongst Canadian fans
Dana White confirms all tickets sold out at Rogers Arena
UFC 289 is set to take place at Rogers Arena in Vancouver, Canada on June 10.
When the UFC announced this card, Canadian fans were told that the Main Event would feature a title fight in the bantamweight division between champ Amanda Nunes and former champ Juliana Pena who was looking to reclaim her belt.
Main Event Change Not A Problem For Canadian Fans
The UFC made it a habit to hold regular Fight Night cards in Canada pre-COVID but then stopped coming to Canada for nearly 3 years due to COVID-19. The UFC decided to make it up to MMA fans in Canada by bringing a special pay per view card to Vancouver, Canada.
The UFC was forced to announce a change in the Main Event as Juliana Pena got injured and was unable to fight Nunes. The UFC managed to keep Nunes on the card by finding a quick replacement in Irene Aldana who has a 14-6 record.
Aldana was already in training camp as she was scheduled to fight Raquel Pennington in May but the UFC decided to scrap that fight and give Aldana a shot at the title and face the champ in the Main Event.
A Main Event change can often disappoint fans and weaken the card but this change might have worked out even better for Canadian MMA fans as Aladana is a worthy opponent and ranked number 5 in the bantamweight division which will compliment the exciting co-main bout between Charles Oliveira and Beneil Dariush. 
UFC President Dana White confirmed over the weekend that they had sold out Rogers Arena for UFC 289.
Canadian Fans Likely To Support Aldana
Amanda Nunes is considered the GOAT (Greatest of All Time) in women's MMA and Canadian MMA fans will be happy to see Nunes fight in person as they know Nunes is very close to retiring as there is nothing left to accomplish for her anymore.
Aldana could end up having the crowd support as fans don't want to see a one sided fight and see Nunes dominate. UFC veteran now turned commentator Rashad Evans has backed Aldana to win the fight based on the fact that she has superior boxing than Nunes and fast hands.