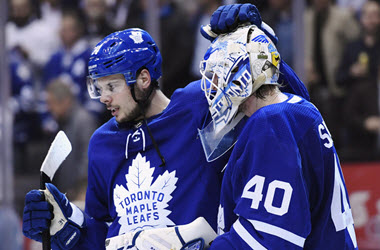 The Toronto Maple Leafs continued their hot streak as the Los Angeles Kings pulled into the A.C.C on Monday night. Frederik Anderson out with an injury did little to help the Kings with backup goalie Garret Sparks in the net.
Sparks racked up 33 saves for the night as Toronto earned a 4-21 victory and increased their winning streak to five games. While Matthews may not have scored last night against the L.A Kings, Kasperi Kapanen did, twice. Patrick Marleau scored once and did Mitch Mariner. Earnings assists were Zack Hymen, Josh Leivo, Tavares and Austin Matthews.
Sparks was more comfortable last night allowing only one goal in comparison to the six that got by in the Leafs game against Chicago on Sunday. For a kid who grew up cheering for the Leafs, it was a triumphant appearance. Commenting, Sparks said,
"When you're starting the season on the road, in Chicago, Stan Mikita night … there's a lot of stuff buzzing around. It was a really emotional day for me."
Babcock's announcement to put Sparks in net came as a surprise too many after the morning practise skate and one that was not expected and it was only announced that Andersen has suffered a lower body injury. That announcement saw ECHL goalie Eamon McAdam recalled on an emergency basis.
It is expected that Andersen will be in net on Thursday when the Leafs play host to the Pittsburgh Penguins. Sparks, who won the goalie of the year award last year in the AHL stated,
"I wasn't anticipating playing when I went to bed Sunday, but that's the nature of this position — having to be ready and being able to perform when you're called upon."
Sportsnet
Austin Matthews has earned points in every game so far this season, and the two assists he added to his total last night put him in an elite group of four who have played seven multi-point games at the start of the season. That elite group includes Mario Lemieux, Kevin Stevens, Mike Bossy and Wayne Gretzky,
Matthews, when asked about the achievement said,
"I'm just trying to play hockey, have fun and get those opportunities and try to cash in on them. Fortunately, they've been going in. The most important thing is we've been winning games."
Ilya Kovalchuk scored Los Angeles only goal and goalie Jack Campbell had 21 saves for the night. The Maple Leafs just returned from a four game winning streak on the road where they managed to continually outmanoeuvre and score their opponents racking up 23 goals, and it was a road trip that saw them take on and beat last year's Stanley Cup winnings.
It took Kasperi Kapanen less than 50 seconds to score his first of two goals after connecting with a banked shot from L.A's Jack Campbell. It was his third of the season in a play that saw Matthews under attack from Drew Doughty before he found Jake Gardiner.
Kapanen, speaking with reporters after the game said with a grin,
"Campbell was scrambling a bit. It looks good on paper when you get at least one shot."
Since joining the top line of Austin Matthews and Patrick Marleau, Kapanen has scored four goals and earned four assists. The change has been good for the Leafs, even better for Kapanen, who is known for skating fast and having the skills needed to added value to the top line.
Los Angeles was coming off a loss to the Ottawa Senators going into their game against the Leafs and hoping for better results. The Kings have now lost 6 out of 7 games and are in dire need if they hope to start winning games.
Toronto scored their second goal as the first period came to an end after Patrick Marleau put on past Jack Campbell. The Kings managed to reduce Toronto's lead early into the second, but less than five minutes later, Mitch Marner slapped one home after a pass from Hymen to Tavares to earn his 11th point of the season.
The Leafs will next play the Pittsburgh Penguins on Thursday before welcoming the St Louis Blues to the A.C.C on Saturday. Then it is back on the road for one game road trip to Winnipeg before returning home.
Punters who are fans of the Maple Leafs are primed with excitement for what lies ahead this season, and for bettors, now is the time to register with one of our leading NHL sports betting sites such as Bodog or 888Sports, each of which is offering excellent odds for Toronto. Register today and claim your signup bonus, you've nothing to lose and everything to gain!