UFC 242 Betting Odds & Predictions For Nurmagomedov vs. Poirier Fight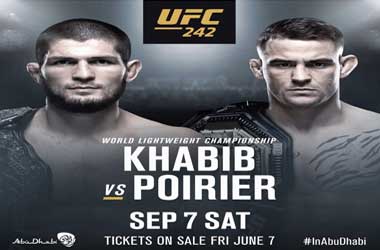 UFC 242 will arrive in Abu Dhabi this Saturday and will see Khabib Nurmagomedov defending his title against Dustin Poirier in what many are calling the battle of all battles.
This will be Khabib's second time heading into the octagon since returning from being suspended and one that will be the night's main draw.
It also will be the first time in nearly four years that the UFC will be returning to Abu Dhabi and will also feature Edson Barboza taking on Paul Felder. Joining the main card as well is Islam Makhachev vs Davi Ramos and Mairbek Taisumov vs Diego Ferreira in the Lightweight division and Curtis Blaydes vs Shamil Abdurakhimov in the Heavyweight.
While the card is filled with some exciting early prelims and prelims, the main anticipation will be Khabib vs. Poirier and Barboza vs. Felder. That said, let's take a closer look at the live betting of the two main events and who we predict will win.
Best Online Sportsbooks To Bet On UFC242
UFC – Ultimate Fighting Championship
UFC242 Fight Analysis
Khabib Nurmagomedov vs. Dustin Poirier
Odds to win: Khabib Nurmagomedov -450 / Dustin Poirier +325
Khabib last saw action in early October 2018 at UFC 229 when he took on Conor McGregor, the former lightweight champion. That fight was the largest pay-per-view UFC fight to date, and it was one that saw Khabib put McGregor in his place in the fourth round after he put him in a neck crank. It was the brawl that took place after that saw Khabib being suspended and fined after attacking one of McGregor's team.
"The Eagle", as Khabib is known is a force to be reckoned with, in part due to his 70 inch reach. Splitting his time between his hometown of Dagestan where he trains with his father and the United States, he remains undefeated. A judo black belt, he is also trained in hand-to-hand combat, pankration and sambo and at 30 years of age, is ranked No. 2 in the UFC.
Dustin Poirier is also 30 and is fresh off the biggest win in his UFC career. After winning four of his last five fights, he entered the octagon to square off against Max Holloway, who was attempting his second chance at a second division title. The two previously battled in 2012, a fight that Halloway lost, as he did in their latest fight and that put an end to Halloway's thirteen fight win streak and Poirier becoming the interim lightweight champion.
At 5 ft, 9 inches, Poirier, known as "The Diamond" is slightly smaller than Khabib but has a two inch reach advantage. Hailing from Coconut Creek, Florida he trains with the American Top Team gym, he is a Brazilian jiu-jitsu black belt and is No. 8 in the UFC based on pound-for-pound.
Our Prediction: Khabib to win by submission
Edson Barboza vs. Paul Felder
Odds to win: Paul Felder +125 / Edson Barboza -155
Edson Barboza and Paul Felder take up the co-main event spot in what will be a rematch of their fight in 2015. That fight was decided by unanimous decision in Barboza's favour, but since then, Barboza hasn't faired well in his last three fights having won only one. However, he did manage a victory against Dan Hooker after losing to Kevin Lee and Khabib Nurmagomedov.
There is little doubt that Barboza will be looking to prove he still has the skills needed after being knocked out in his last fight in March against Justin Gaethje. At almost 6 feet tall and with a reach of 75 inches, he is a taekwondo black belt, a muay thai black prajied and a brown belt in Brazilian jiu-jitsu brown belt. Currently, he is ranked 7th in the lightweight division but after his recent results, will have his work cut out on fight night.
The last time Paul Felder and Barboza entered the octagon, the result was not in Felder's favour and has had only had one fight so far in 2019. That fight saw Felder squaring off against James Vick and winning as a result of a unanimous decision. However, during the bout, Felder had one of his lungs collapse, and that put him on the sidelines while he recovered. Yet compared to Barboza, Felder, who stands almost 6 feet tall has a considerable shorter reach but has won four of his last five fights, a far better than Barboza's recent history. Currently ranked 10th in the lightweight division, he is a taekwondo black belt and Brazilian jiu-jitsu purple belt.
Our Prediction: Paul Felder to win by unanimous decision