UFC 249 Betting Odds & Predictions For Ferguson vs. Gaethje Fight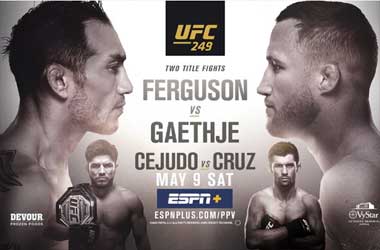 Fans of the UFC can finally look forward to seeing UFC 249 after the event, which was scheduled to take place on May 9th and cancelled due to the COVID-19 pandemic, has found a state that will allow the UFC to stage the event, albeit without fans in attendance.
Originally, the scorecard was the highly anticipated matchup between Khabib Nurmagomedov vs. Tony Ferguson. However, due to the pandemic, Nurmagomedov is not permitted to leave Russia, and therefore that saw the score change with the main event now featuring a matchup between Tony Ferguson and Justin Gaethje.
Gaethje watched his luck saw him stepping in after the predicament that Khabib Nurmagomedov found himself under, and he is not looking back after he was the chosen one be the replacement. He will face off in an interim lightweight title battle against Tony Ferguson on the anticipated date of the 18th. Gaethje also has the unexpected surprise of entering the fight with slightly favoured odds as Ferguson was in the midst of preparing to do battle with Nurmagomedov but now must change to accommodate a different fighting style in hopes of earning his thirtieth career victory.
The lineup also saw changes to the main card with Henry Cejudo facing off again Dominick Cruz in a Bantamweight Title Bout, while Francis Ngannou will take on and Jairzinho Rozenstruik in a Heavyweight bout and Jeremy Stephens and Calvin Kattar will take to the cage in the Featherweight class. That being said, for this comparison, we will focus on Ferguson and Gaethje as well as anticipated match between heavyweights Greg Hardy and Yorgan De Castro.
Best Online Sportsbooks To Bet On UFC249
UFC – Ultimate Fighting Championship
UFC249 Fight Analysis
Odds have been provided by Bodog and are accurate as of 04/05/2020
Tony Ferguson vs. Justin Gaethje
Odds to win: Tony Ferguson 1.52 / Justin Gaethje 2.55
This is the fifth time that Ferguson has watched his opportunity to fight Nurmagomedov slip away. Adding to his frustration is the time spent preparing for a match against one competitor only to have to switch gears and prepare for another with the knowledge that the fight may be cancelled unless a venue can be secured.
Ferguson has been having an excellent run in the UFC of late and at 36, has won his last twelve fights, with the last resulting in the Californian knocking out Donald Cerrone. He has yet to lose a fight since 2012 and won the interim lightweight championship in 2017 with a win against Kevin Lee but watched it disappear after he walked away in April 2018 from fighting Nurmagomedov due injuring a knee ligament.
However, Ferguson could see his winning streak end against Gaethje after his last three fights ended win victories, with his most recent also coming, as a result, of a knock out in September against Donald Cerrone. That said, while Gaethje is no slouch in the ring, Ferguson is doing a good job at managing himself considering his age (36) and was heading into his bout with Nurmagomedov as a favourite to win and calling this one is somewhat a tougher one, and while Gaethje may have slightly favoured odds, there is little doubt that Ferguson will not go down without a solid performance.
Our Prediction: Gaethje to win by decision
Greg Hardy vs. Yorgan De Castro
Odds to win: Greg Hardy 1.50 / Yorgan De Castro 2.60
Joining the main card for UFC 249, Greg Hardy is the one being favoured to walk away with a victory. Hardy heads into the match, should it actually go ahead, with a 5-2 record while de Castro is 6-0, and the favoured odds are resultant on Hardy having won two and lost two of his UFC fights, but the two wins on record came as a result of his defeating both Juan Adams and Dmitry Smolyakov by TKO, and his losses were one due to disqualification and the other by unanimous decision.
De Castro went into the UFC with a 5 and 0 record and won his first fight and racked up zero losses but has not fought since October of last year. While he has a superior record, the oddsmakers feel the first round closer in Hardy will come out on top.
Our Prediction: Hardy to win by decision