FIFA WWC Final 2019: USA vs. Netherlands Prediction & Odds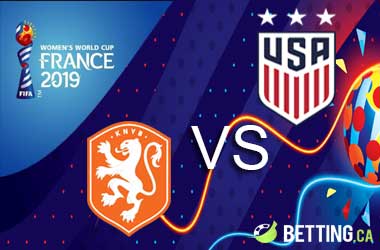 The FIFA Women's World Cup final is only days away, and it has been one that has been filled with highs and lows for the 24 nations that participated in this year's World Cup tournament.
That included second seeded Germany losing to Sweden, and fourth seeded France losing to the United States in the quarter-finals.
However, for the Netherlands, ranked 8th, they have defied the odds. The European Champions who are competing at their fifth major tournament with this their second at a world cup, have defeated Japan thank to a last minute penalty and Italy along the way.
The United States entered the tournament ranked No. 1, and beyond a loss to France, and two draws, the U.S team has won every match this year. Their opening match against Thailand resulted in a sweeping 13-0 victory, and it seemed to set the tone for this nation to make their presence known and that puts them as the undeniable favourites going into the finals on Sunday.
Bet On Women's World Cup Final 2019 With Top Sportbooks
Optus Sport
FIFA WWC 2019: Final – What to Expect and Watch for

As the final is fast approaching, let's take a closer look at each team and who we think will win.
USA
Odds to Win: 1/5
There was little doubt that the United States was the top pick for many following the Women's World Cup, and also for many of the sportsbooks placing odds in favour of the U.S to win. The U.S has won all but one match in their quest in making the finals and the defending their title, and have been nothing short of flawless in the execution of that goal.
Alex Morgan has been a standout player that continues to develop and lead the U.S. In her 400 minutes of play, she has scored six goals, including the winning goal in their semi-final match against England. Continuing to be a threat is Megan Rapinoe, and with five goals to her name, she has been instrumental in the success of the U.S team having been a part of fourteen others. U.S team players to watch include Crystal Dunn, who has 24 goals in 89 international appearances, Julie Ertz with 19 goals in 86 appearances and Tobin Heath, with 30 goals in 152 international appearances.
Netherlands
Odds to Win: 10/3
The Netherlands will have a tough battle in defeating the United States on Sunday, but if they have proven anything, it is their drive and determination. Their win over Sweden was their twelve win in a row, and that in itself is impressive, but this is their first World Cup final and nerves are expected to play a part.
The main difference will be seen on the field as the Netherlands lacks any real standout players other than Lieke Martens and Vivianne Miedema. Martens has only managed to score two goals and Miedema three, and Danielle Van De Donk, who has played 45 minutes has yet to score or earn a single assist. However, on the international stage, Van De Donk has 16 goals to her credit in 95 appearances, Miedema has 61 in 81 appearances and Martens has 44 in 109.
Our Verdict: United States to win

While some feel the Netherlands may upset the United States and take the win, the overall census is the U.S will continue to dominate, and the Netherlands will have to settle for runner up, no small accomplishment but until the final is over, only time will tell.