2021 Nitro ATP Finals Betting Preview & Latest Odds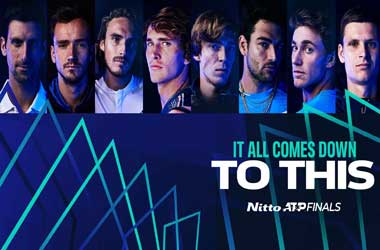 After another year of uncertainty, the ATP Finals will take place from November 4th to the 21st in Turin, Italy. As expected, it will see eight players going to battle in hopes of being crowned this years ATP Champion. Sitting at the top of this year's qualifying players are the usual heavy hitters like Novak Djokovic, Alexander Zverev and Daniil Medvedev.
While oddsmakers are predicting the final will be a battle of wits between Djokovic and Medvedev, they will need to contend with top players like Stefanos Tsitsipas and others like Matteo Berrettini, Andrey Rublev, Hubert Hurkacz and Casper Ruud.
Fortunately for Djokovic and defending champion Daniil Medvedev, the finals pose little challenge, but for the remaining top eight, they are entering the event with limited experience are not expected to advance beyond the group stage.
Best Online Sportsbooks To Bet On The 2021 Nitro ATP 2021
Nitro ATP 20121 Final Top Contenders
Considering the lineup, the likely conclusion heading into the finals is the top four seeds will advance to the semis. That being said, upsets happen and with the finals only days away, let's take a look at the top four contenders.
*Odds have been provided by Betway and are accurate as of 11/11/2021
Novak Djokovic
Odds to win: 2.37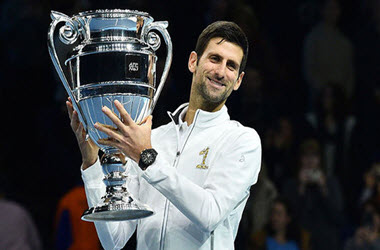 One of the greatest tennis plays of all time, Novak Djokovic has had another solid year on the ATP Tour, racking up three Grand Slam titles including his 20th title at Wimbledon. At 34 and ranked No.1, he remains at the top of his game, long after others would have put away their rackets and retired.
In addition to his three Grand Slams, Djokovic added two more wins to his record, but the Serb has failed to win the finals in almost six years. That has many predicting he will be hungry to win this year's title and cement him as the champions of champions.
Daniil Medvedev
Odds to win: 3.75
A top contender as impressive as Djokovic, Daniil Medvedev is ranked No.2 and has amassed thirteen titles since turning pro in 2014. While the year didn't start as planned for Medvedev after losing the Australian Open finals, he went on to win the U.S. Open, the ATP Masters 1000 in Canada and added wins at Mallorca and Marseille.
He also watched his world ranking go up as he honed his skills and developed his game. With a wicked serve, a solid backhand and an impressive forehand, Medvedev will be in top contention to advance to the final.
Alexander Zverev
Odds to win: 6.50
When it comes to players with impressive form, few others are singled out as No. 3 ranked Alexander Zverev. Another finalist who has had a solid season, Zverev added five more titles to his record of 18 since turning pro in 2013.
Zverev is a player who has really come into his own in the last five years and seen a remarkable improvement to his serve and backhand and has only lost two of his last sixteen matches. That has him pegged to go the distance, and considering he moves well on the court and has a solid groundstroke game, expect him to make it to the semis, if not the finals.
Stefanos Tsitsipas
Odds to win: 9.00
Tsitsipas began the year ranked No.3 but saw his ranking drop to 4th behind Zverev after having a less than stellar year. Tsitsipas still managed to rack up two titles this season, resulting in his being added to the top eight. For the lesser experienced, that is unlikely to impact their chances, but Tsitsipas is a superb athlete with tenacity on the court and intelligent, hard-hitting plays.
More importantly, he has beaten Djokovic in the past and chalked up wins against Federer and Nadal. However, after he withdrew from the Masters in Paris with an elbow injury, his readiness is questionable.
Dark Horse: Matteo Berrettini
Odds to win: 15.00
Matteo Berrettini is making his second appearance at the Nitro ATP Finals since his debit in 2019 and going into the finals ranked #7. While the crowds will undoubtedly show their support of the Italian native, his odds linger on his ability to tap into past final appearances as he did in London and Belgrade this year.
Whether he can pull off an upset victory will depend on converting his breakpoint opportunities, but at 37%, the odds are not in his favour. Still, his recent improvements could help get him into the semis and an appearance in the finals with a bit of luck.
Our Prediction
Like any finals, pinpointing a winner is not as easy as it seems. While there are always standouts, the nature of the game can change quickly and result in favourites failing to capitalize on what many considered a sure thing. However, with the Nitro ATP Finals, our prediction is Djokovic and Medvedev going into a head to head battle with Medvedev coming out on top.