Lewis vs Gane Predictions, Odds & Betting Sites for UFC 265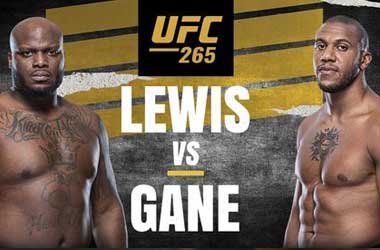 After a successful night at UFC 264 that saw Conor McGregor returning to the cage against Dustin Poirier, the UFC is gearing up for its next event, UFC 265.
The UFC will be retuning to Houston, Texas and will feature Derrick Lewis and Ciryl Gane as its main event.
While it was expected that Amanda Nunes and Julianna Peña would share the main event in a women's featherweight title bout, their bout has been rescheduled after Nunes tested positive for COVID-19.
In their place, Jose Aldo will take on Pedro Munhoz in a bantamweight bout, while Michael Chiesa and Vincent Luque will join the main card in a welterweight bout. While the night will include bouts between Tecia Torres, Angela Hill and Song Yadong and Casey Kenney, the main attraction of the night is the title bout between Derrick Lewis and Ciryl Gane
Best Online Sportsbooks To Bet On UFC 265
While most of the attention will be focused on the Lewis and Gane bout, the rest of the night has some excellent action lined up. Along with the bouts between Aldo and Munhoz, Chiesa and Luque, the prelims will be entertaining as they include bouts between Booby Green and Rafael Fiziev and Vince Morales battle Drako Rodriguez.
However, our UFC 265 analyse focuses on the title bout between Lewis and Gane and the bouts between Aldo, Munhoz, Chiesa and Luque.
UFC – Ultimate Fighting Championship
UFC265 Fight Analysis
Odds have been provided by 888Sport and are accurate as of 01/08/2021
Derrick Lewis vs Ciryl Gane
Odds to win: Derrick Lewis 3.50 / Ciryl Gane 1.30
There is little bout heading into UFC 265 that Derrick Lewis is the front runner with oddsmakers putting at odds of 3.50. However, while Lewis is powerful, he is reserved and saves his energy for when it counts. The advantage for Lewis is his opponents are well-aware of the power he possesses and do their best to avoid engaging him. As a result, Lewis has a low strike average of 2.59 per minute, while his accuracy is 50%, his striking defence is only 44%, and his grappling skills need improvement.
All that said, Lewis's grappling skills leave him with dismal results, a fact that was evident in his bout against one of the best grapplers in the UFC, Curtis Blaydes. As for Gane, at 31 and 245 pounds, he is a technical fighter and is fast on his feet. He is skilled in using kicks, knees and elbows to defeat opponents and likes to weaken them over time, often relying on a decision to win his bouts.
On average, Games lands over five strikes a minute and has a 54% accuracy record and an even better striking defence. That makes Gane a rare fighter in the MMA, especially the heavyweight division, as he often will tire his opponents with fancy footwork and force them to go the distance. If Lewis is to succeed, he will need to takedown Gane on the mat, otherwise, this one could go to decision and then it is anyone's guess who will be victorious.
Jose Aldo vs Pedro Munhoz
Odds to win: Jose Aldo 1.80 / Pedro Munhoz 2.00
While many are sure to be disappointed at learning Nunes is out with COVID, they likewise will most likely not be pleased with a regular bout versus a title bout replacement. However, Jose Aldo is no slouch and have a solid fan base being he is ranked 4th in the Bantamweight division. His opponent Pedro Munhoz is not far off in the rankings, and that is what makes this a bout to watch.
While both are 34 and nearing the end of their competitive fighting with the UFC, Aldo is the more experienced of the two. The problem is experience hasn't translated into favourable odds as the two are almost evenly favoured ahead of the fight. That said, the fight is an important one for both as the winner will have a shot at a title bout in what is now a division with a lot of contenders looking to make names for themselves.
Michael Chisea vs Vincent Luque
Odds to win: Michael Chisea 2.00 / Vincent Luque 1.80
Michael Chiesa and Vincent Luque is another main card bout that is pretty evenly matched. While Luque has the superior ranking, he is the larger of the two coming in at 5'11 and 170lbs, whereas Chiesa is ranked 5th and stands 6'1 and 170lbs. Moreover, Chiesa is a superb grappler and enters the bout with eleven victories by submission. That gives him a slight advantage, but his greatest advantage comes from his four back-to-back wins.
However, Luque comes to the bout with a fresh win against Tyron Woodley. In his last ten bouts in the UFC, he has won nine, and that makes him a top contender, and one Chiesa will need to keep in mind. If Chiesa hopes to add another victory to his belt, he will need to rely heavily on his wrestling and takedown skills. That may prove a difficult task at Luque is a superior opponent and one that is not afraid to fight. This is another bout that could go either way, and while the oddsmakers are favouring Chiesa, our money is behind Luque.