New Zealand vs. England Cricket World Cup 2019 Betting odds & Prediction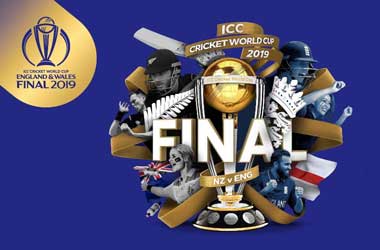 England has succeeded in their goal of making its fourth World Cup finals appearance after its defeat of Australian in the semifinals.
The hope is they will continue the path towards victory when they meet New Zealand on Sunday for the 2019 World Cup Cricket final.
After suffering back-to-back losses to Sri Lanka and Australia, the English came back strong to win against India, New Zealand to advance to the semifinals and succeeded to oust Australia, now all that stands in their path is one more win.
The final will take place at the Lord's Cricket Ground in London, and that will give England a hometown advantage over New Zealand. This is a cricket ground steeped in history and tradition, and for many, the holy grail of cricket grounds. It was established by Thomas Lord between 1787 and 1814 and with 30,000 spectators expected to be in attendance, history could be made in the process.
The Lord's Cricket Ground is considered one of the most famous, having played host to over 130 test matches, has hosted over 55 one-day international tournaments and is commonly referred to as the home of cricket.
Best Place To Bet On The Cricket World Cup Final 2019
England
Odds To Win: -333
After placing in the top four, England still had a tall mountain to climb to make the finals, and that included coming out on top of Australia in the semifinals. Heading into the finals, England sits with a 5-4 record and are favoured over New Zealand after eliminating Australia, Bangladesh, Afghanistan, South Africa and Pakistan. That said, England will need to focus on their successes versus their losses as they head into the finals, their fourth.
Having placed runner up in their three previous finals (1979,1987 and 1992), England is going to need to dig deep to put up the challenge needed to topple New Zealand and will need Adil Rashid, Chris and Jofra Archer to be on top of their game as they were against Australia if they hope to succeed. The good news for England is Jason Roy is back after battling a hamstring injury and seems to have returned unscathed and went 25 without a loss against Australia. The bright side to that is it seems to have given England a confidence boost, and that has transcended to bookmakers favouring England to win over New Zealand.
New Zealand
Odds To Win: +250
New Zealand has been stellar during the World Cup suffering only three losses and internationally, have a 88% win percentage. This will be there back-to-back second World Cup final which they hope to revenge their loss in 2015 to Australia by 7 wickets. While strong contenders, they will need to play at their best if they hope to come away victorious over England.
New Zealand will be depending heavily on Kane Williamson, Trent Boult, Lockie Ferguson, Ish Sodhi and Ross Taylor to score wickets and they will be the key defenders against England's Jofra Archer, Jason Roy, Mark Wood, Joe Root and Ben Stokes.
New Zealand's July 3rd match up against England was a landslide victory, and there is little doubt this may be a factor mentally on Sunday as the two prepare for the final. In the eight World Cups the two teams have played, New Zealand has won five while England three, but if history is to repeat itself, New Zealand will need lady luck on their side as no two teams are equal and relying on previous pairings to gauge their success will likely find them on the wrong end of the stick.
Our Prediction
When placed side by side, England and New Zealand were this year's top and strongest teams. While there were other teams such as India and Australia that actually had better standings, it is the combination of the talent on both that made the difference, many of whom are the best in the sport today. That believe is evident in Betway putting odds to win in favour of England, especially now that Jason Roy is back in the lineup.
With Roy back in the fold, even though penalised for a code of conduct violation, New Zealand's job became that much harder as his return over a hamstring issue is a big plus for England. Any doubts of limitations based on that injury were evaporated against Australia. While New Zealand could prevail and come out and surprise those favouring England, we will stick with our prediction that England will win the Cup on Sunday.