2021 Australian Open Men / Women's Betting Preview & Latest Odds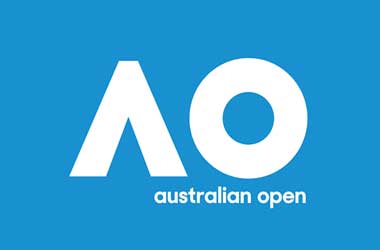 With the Australian Open days away, tournament organizers announced unexpected scheduling changes that saw all warm-up matches being postponed.
After dozens arriving on chartered flights were infected with the coronavirus, organizers scrambled to manage hotel accommodations, resulting in the scheduling changes.
The latest delay comes after it was revealed that a hospitality worker where players are being quarantined tested positive for the virus.
While the quarantined players will participate in the Open, several top ranked players from the ATP and WPT have opted to exclude themselves from the tournament for various reasons. To date, this includes Roger Federer and Bianca Andreescu both who are recovering from knee injuries, although additional exclusions join the list depending on the advice of while medical experts and healthcare workers.
While the news has not been positive heading into the tournament, analysts are predicting Novak Djokovic is likely poised to win the Open due to Roger Federer opting out. This will be the first time in 20 seasons that Federer hasn't attended the Australian Open.
On the women's side, Serena Williams and Naomi Osaka are expected to compete to be the front runners, while analysts are another Williams victory. However, this considering the age difference between the two and if predictions are right and then go to the final, it will be a battle of wills, for both the male and female divisions.
Best Online Sportsbooks To Bet On The 2021 Australian Open
Scheduling for the 2021 Australian Open was slated initially for January 18th to 31st, 2021 however hat date was postponed following concerns regarding the pandemic. As a result, the Open was bumped forward and is slated to take place between the 8th and 21st of February. In addition to date changes, organizers were forced to make venue changes that saw qualifying matches being hosted in Abu Dubai.
This added to the interruptions for event organizers and players as a mandatory two week quarantine was put in place on arrival to Dubai. It also created additional challenges in organizing travel accommodations, and ultimately, was resultant players being exposed to the virus and their subsequent quarantine on arrival in Australia.
While the tournament remains scheduled for the 8th through to the 21st, fans wishing to buy tickets are being forced to sign a "Terms & Conditions Agreement". The agreement states that due to the 25% capacity restriction, ticket holders are limited to attending with family from the same household and must to submit to temperature screening.
Based on the events to date, many top ATP and WTA players will be in attendance, and that leads us to determine who is favoured to go to the finals. That being said, let's get into the nitty gritty and rank the top male and female contenders.
ESPN Asia
Odds have been provided by 888sport and are accurate as of 04/02/2021
Men's Australian Open – Contenders
Rafael Nadal
Odds to win:1.60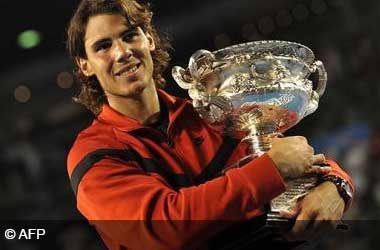 Considered one of the ATP's top layers and ranked No. 2 in the world, this will be the first tournament of the year which he has only won once before back in 2009. However, Nadal remains a favourite with analysts after earning victories at the 2020 Spain ATP Cup, 2020 Mexican Open, 2020 Italian Open, and 2020 French Open.
While analysts expect Rafael Nadal to be a top contender against Novak Djokovic, oddsmakers are not in Nadal's corner so to speak. Many of which are putting 1.20 odds in favour of Djokovic, while Nadal is coming in at 1.60.
Novak Djokovic
Odds to win: 1.20
Novak Djokovic ranked No. 1, and the reigning Australian Open champion since 2019 had an impressive season in 2020 and racked up four victories. The Serb's continued dominance in the sport was helped by the absence of Roger Federer while he continues to heal from an unexpected knee injury. This gave Djokovic an advantage that resulted in wins at the ATP Masters in Cincinnati, ATP 1000 in Rome, the Dubai Duty Free Tennis Championship and the Australian Open.
Dominic Thiem
Odds to win: 1.12
The unlikely contender for the 2021 Australian Open is Dominic Thiem, a younger athletic personality that has champion qualities saw the No.3 ranked player winning the U.S. Open last season. While he lost in the Australian Open finals to Djokovic, the finals went five sets, and that is a testament to the threat Thiem poses going into this years' Open. Make no mistake, analysts anticipate Dominic Thiem to advance to the semis and is a strong contender for another appearance in the finals.
Dark Horse: Alexander Zverev
Odds to win: 4.33
Previously ranked No.3 in the world, Alexander Zverev failed in his bid to win the U.S. Open and since 2018, has repeatedly seen his ranking drop. Although he is ranked 7th overall, Zverev has yet to win a Grand Slam event since turning pro. While he has an impressive resume with wins at the indoor and outdoor bett1HULKS Championship, he is not expected to make much headway at the Open, and that makes him our dark horse.
Women's Australian Open – Contenders
Naomi Osaka
Odds to win: 1.10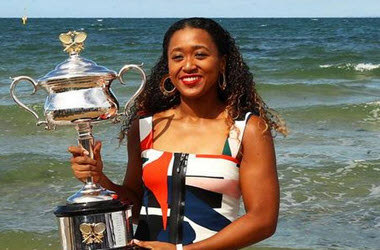 This 23-Year-Old iconic tennis player will be the likely winner of the 2021 Australian Open.
She is the first Japanese player to sit atop in the world rankings, a position she earned after winning three consecutive Grand Slam victories including the Australian Open in 2019.
Adding to her draw as a top contender heading into the Open is Osaka's prominence and her proven abilities, both on and off the court.
Ashleigh Barty
Odds to win: 1.18
Ashleigh Barty, ranked No.1, is surprisingly not favoured by analysts to win the Open this year. This is even more surprising considering Barty went to the semifinals in Australia last season and to the finals at Adelaide. While Barty took an extended leave in 2020 due to the pandemic, her five finals in 2019 are impressive, to say the least, and her not being favoured is questionable at best.
Simona Halep
Odds to win: 1.40
Previously ranked #1 in the WTA, Simona Halep is the most likely contender against Naomi Osaka. Halep is considered the 10th greatest record-holder in the Women's Tennis Association, and the first to hold the position for 64 weeks. Halep added two Grand Slam victories to her record during that time, one at the 2018 French Open, and the other at Wimbledon 2019. That's one less than Osaka, leading bookmakers to rank Naomi at higher odds to win.
Dark Horse: Shelby Rogers
Odds to win: 4.50
Shelby Rogers is an American tennis professional looking to become a prominent force in women's tennis. There have been moments of greatness from Rogers, including her defeat over Simona Halep during the 2017 Australian Open. Shelby also defeated Serena Williams at the 2020 Top Seed Open and made her mark at the 2016 French Open and 2020 US Open. However, Rogers failed to advance at either, and that puts the odds against her advancing far in the Australian Open.
Our Prediction
With all the drama and delays leading up to the Australian Open, it's anyone's guess how this will impact the mental state of competing players. Obviously, they are seasoned to adapt to changes, but ultimately, the pandemic's overlying threat will play in their minds.
That said, few changes are expected with our predictions, and we continue to favour Novak Djokovic to win the men's title and Naomi Osaka to win the women's. Although, Osaka will have to contend with Ashleigh Barty and that could result in either coming away with the win as odds are closely tied between the two for the win