CEBL Betting Sites in Canada [ 2022 ]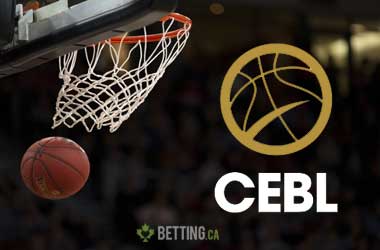 NBA, NBL, Euroleague — these are all legit options for Canadians that want to participate in basketball betting. But you should know that there are lots of other opportunities you can seize if you delve a bit deeper into the betting program of Canadian sportsbooks. There are lots of hidden gems, basketball leagues whose popularity is overshadowed by top-tier competitions.
These fixtures can be real-money spinners if people with good knowledge of the game use them properly. The Canadian Elite Basketball League fits into this category perfectly.
The CEBL was founded in 2017 but is already showing great promise, and including it in the betting offers was a no-brainer for Canadian sportsbooks.
This guide will help you learn everything you need to know about CEBL — where and how to bet, the most popular types of wagers available, different types of bonuses you use to boost your winning odds, and more.
Best Betting Sites for CEBL Betting

If you decide to give CEBL betting a try, you'll want your chosen sportsbook to be safe, reliable, and packed with bonuses.
Moreover, it should be easy to use, responsive, and have a variety of other betting options.
Lastly, you need your hand-picked betting site to have round-the-clock support and a sufficient number of payment methods.
It just so happens that we know a few sports betting sites that would fit the bill. After analyzing all the available options on the market, my expert team has reassured me that these operators are the best in the business.
How Can We Tell for Sure That These Sites are the BEST?

The sportsbooks you see on the list were not randomly selected — they were hand-picked by our sports betting specialists. These guys have many years of experience and know the nuts and bolts of the iGaming industry. Over the years, they've established a 10-step selection process that allows them to thoroughly check every betting site that emerges on the market.
Here are the most important criteria in finding a top CEBL betting site.
Legitimacy
If you want to be sure that you're betting on a site that runs a clean, legitimate business, you need to check whether it has the proper documentation to prove it, which is, in this case, a license from a reputable regulatory body. This is usually presented at the bottom of the sportsbook's homepage. If you see a virtual stamp issued by the MGA, UKGC, Curacao or some other licensing jurisdiction, that means that the betting site truly promotes fair and responsible gambling.
Reputation
Once you verify that the betting site is licensed properly, you should check for its reputation on sportsbook review portals. This will give you more insight as to how the operator treats its players and whether it pays them their winnings in a timely manner. Review portals also have players' complaints sections — look into them and see how quickly the sportsbook resolves customer queries.
Safety
Now that you've confirmed that the betting site is the real deal, you need to ensure that it has taken all the precautionary measures to prevent cyber attacks on its servers. This is where firewalls and advanced tools like 256-bit SSL encryption come into play. These mechanisms create an impenetrable barrier that keeps your personal and financial details safe and hidden from unauthorized parties.
Bonuses
Finding a sportsbook that offers bonuses is easy, but not all of these deals are worth your time. You may get hundreds and even thousands of dollars of free cash, but if the wagering requirements attached to the offer are too high, you're never going to be able to see any real money from it. That's why it's important to look beyond the sheer size of the bonus package and pick only betting sites with user-friendly terms and conditions.
An equally significant aspect is promotions for regular customers. At the top CEBL betting sites, you'll come across dozens of cashback deals, parlay boosts and live bet promos — all of which are available for existing customers.
Quality of Odds
This should be one of the deciding factors when choosing a sportsbook because it directly impacts your potential payout. Generally, betting operators release similar odds across all sporting events, but there are a handful of sportsbooks that consistently offer lines that are slightly above the industry standard — they are the ones you should be looking for.
Market Variety
If the sportsbook has a poor market variety for CEBL games, you'll have a much harder time finding a good winning opportunity. The more options you have at your disposal, the easier it will be for you to make cash. Moneylines and point spreads are great, but they're not going to cut it. You'll need props, futures — the whole package. The sportsbook listed on this page has all of these types of bets readily available, which is one of the reasons our team approved it.
Feel and Usability
Unfortunately, bettors often overlook this factor that is just as important as the others. This is especially the case with live betting where things happen quickly and every second counts. When you're in a rush to place a live wager, it's paramount that the betting platform works smoothly without any bugs or glitches because, by the time it unfreezes, the opportunity could go away for good.
The bottom line is that you should look for intuitive, responsive, and user-friendly betting sites as they will deliver the best user experience.
Mobile Support
At this stage of the digital revolution, every sportsbook has a mobile-friendly platform that allows players to bet even when they don't have access to their PCs or laptops. However, as we discovered the hard way, not all mobile betting apps are created equal. Some are not optimized well enough, causing performance issues throughout the betting session. That's why you should always run benchmark tests on the sportsbook's mobile site before giving it the green light. It should work smoothly across both iOS and
Android
devices. And if the betting operator has native apps, better yet.
Banking
If the sportsbook has all of the above characteristics, then it's definitely a good option for CEBL betting. But there's one thing you should look into before making the final move — the site's banking section. All of these qualities are for nothing if you don't have the means to deposit and withdraw funds to and from your account. Typically, there is an abundance of payment methods at every sportsbook, but the processing times and fees vary significantly.
When reviewing betting sites, our team gives the highest ratings to operators that facilitate cashouts within 2-5 days and incur no fees on transactions. Needless to say, the more banking options the site has, the better. PayPal, Skrill, Neteller, Visa, MasterCard, and Paysafecard are just a few payment solutions you should be able to find at betting sites.
Is Basketball Betting Legal in Canada?

Not according to the lawmakers. Canadian statutes forbid all forms of online gambling activities that take place on a website whose servers are located outside the country. But since these laws are obsolete and the language used is vague and unclear, most Canadians resort to offshore betting sites quite casually.
The government doesn't go after individuals that place wagers on out-of-state betting platforms, but rather focuses on the operators themselves.
Having all this said, you can place CEBL bets with any sportsbook that accepts Canadian residents — you won't be prosecuted for it.
How to Start Betting on the CEBL
It's quite simple actually. After choosing the sportsbook from our list, you need to sign-up for an account, which takes only a couple of minutes tops. Following the registration, go to the Cashier to deposit some funds onto your newly created account, and you can start placing CEBL immediately.
Don't forget to check out the promotions section as there may be some offers worth taking.
Canadian Elite Basketball League
The Canadian Elite Basketball League was founded in 2017 by six franchises, all owned by Canadian Basketball Ventures. The CEBL currently features seven teams that are based in four different provinces — Ontario, Alberta, British Columbia, and Saskatchewan.
The CEBL regular season is played from May to August. The participating teams play 20 games and the six best-ranked advance to the playoffs. The playoffs culminate with a Final Four event, during which the eventual champion is decided.
Different Types of CEBL Bets
The betting program is not as diverse for CEBL as it is for NBA and other mainstream markets. Still, you should be able to choose between at least ten different types of bets for every regular season and a playoff game in the CEBL.
Here's a brief recap of the most popular types of CEBL bets you'll come across on our recommended betting sites.
Straight Bets
This is by far the most basic type of bet you can make on a CEBL game as it involves predicting the winning team and nothing else. The bigger the difference in odds, the more unevenly matched the two squads are. In the American odds system, the favourites are listed as being the (-) on the spread, while the underdog team is posted with positive (+) odds. The math here is simple — a straight bet on the favourite will probably win, but you'll not get a great payout. On the other hand, even a small stake in the underdog could land you massive profits, if you get it right that is.

Points Spread
One-sided matchups are neither fun nor profitable. To make things more exciting, sportsbooks introduced the points spread, which is a parameter that fundamentally balances the scales between two teams. To win a points spread bet on the favourite, it needs to win by more points than the spread specifies.
For example, if the Ottawa Blackjacks are playing the Edmonton Stingers, and the spread is +7.5 on the home team, then the Blackjacks need to win by eight or more points for you to receive a payout. On the other hand, the Stingers can either lose by less than eight points or win the game outright to cover the spread.
Totals
With totals, your goal is to predict correctly the combined total number of points scored in a CEBL game. To be more specific, you need to forecast whether both teams will score more or fewer points than the limit imposed by the sportsbooks. Betting sites usually offer similar odds for both scenarios, so you'll be getting the same payoff regardless of whether you chose over or under.
Props
Props differ from the above-mentioned types of bets in the sense that they don't impact the outcome of the game. Proposition bets are wagers on occurrences and non-occurrences — you're betting on whether something is going to happen. For instance, a prop bet would look something like, 'is Landry Kyle going to score more than two threes in a game?' Or you could bet on whether a certain team will score more than 40 points in a quarter. The range of possible props is virtually endless.
Futures
Futures are long-term bets that refer to the winner of a championship, series, or season — something that will happen in the not-so-close future and is determined by more than a single game. What makes futures so popular is the payout prospect these bets offer. In theory, you can make thousands of dollars even with the smallest futures bet. Note that this market is incredibly difficult to predict, hence the sky-high odds that go with it.

CEBL Betting Bonuses
CEBL betting sites from our list are usually quite generous towards their users, especially newcomers.
Welcome bonuses
Right off the bat, you can claim a welcome bonus that will give you a great headstart into future betting endeavours. The introductory offer can come in the form of a match deposit bonus or a risk-free bet. It should be all the same to you because at the end of the day, you'll be getting hundreds of dollars of free cash to bet.
Once you get settled in and make a few deposits, betting sites will unleash a whole slew of promotions, with each being juicier than the previous one. For example, a parlay boost promo will give you enhanced payouts for your parlay CEBL bets.

Insurance Bonuses
An insurance deal could prevent you from losing cash if the game goes to overtime, or if a star player gets injured.

Cashback deals
Cashback offers are great because they recuperate a portion of your losses and soften the blow a bit after a frustrating fail with a CEBL bet.

These and many more exciting treats are available in every sportsbook highlighted on this page.
CEBL Betting Tips

If you came here looking for some foolproof strategy that would allow you to win CEBL bets all the time, we have to disappoint you — there isn't such a thing.
But don't lose hope just yet. There are some universal tips that can be applied to all sports and are based on logic and common sense.
These are the tips our expert team regularly uses for their personal betting activities:
Do the pre-game research thoroughly. Before placing a bet, you should always go on a fact-finding mission to look for injury reports, last-minute roster changes, and any other factor that could impact the outcome of the game.
Form matters. In basketball competitions where the season is as short as it is in the CEBL, it's safe to assume that every game matters. By that logic, teams get demoralized quicker, and if a particular squad loses a couple of games in a row, it will probably write off the remainder of the season.
Don't chase losses. From one bettor to another, you should never ever chase losses. This is a never-ending circle that 99% of the time ends catastrophically and could even lead to problem gambling. There is a thin line between a bettor who doesn't know when to stop and a gambling addict. If you're in a slump, it's best to call it a day and continue tomorrow, when you rest up and recharge your batteries.
Conclusion
The Canadian Elite Basketball League is an ideal option for Canadian basketball bettors who want to try something new and exotic. It's fun, fast-paced, and great for both pre-match and live betting.
Now that you know all there is about CEBL betting, it's high time to put that knowledge into practice. Choose one of our recommended sites, and start from there.
If we can be of assistance with anything else, don't hesitate to reach out to us. We'll make sure to reply as soon as possible.
CEBL Betting FAQ