Online Poker Canada – Best 10 Legal Canadian Poker Sites In 2023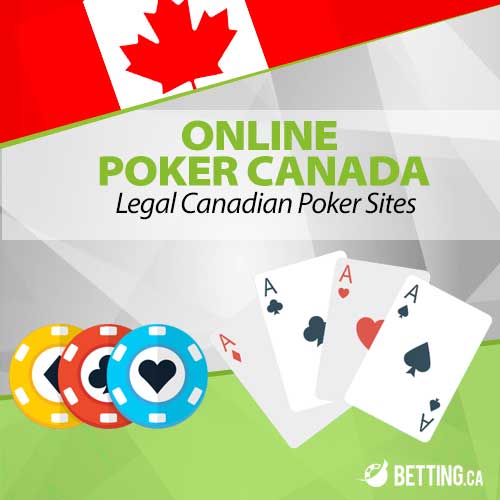 Canadians adore poker. Some of the most prolific poker players in the world come from Canada with the likes of Daniel Negreanu, Michael Watson, Jonathan Duhamel and Gavin Smith, to name but a few.
The Great White North is home to dozens of world-class poker rooms spread across all ten provinces. These top-notch establishments host tons of different poker tournaments, including WPT Montreal, Punta Cana Poker Classics, and a couple of events from the WSOP circuit.
This is all great, no doubt about it. But what if you can't afford the trip to these venues? Is there a way for Canadians to enjoy their favourite casino game without having to drive hundreds of miles to the nearest poker room? There is — online poker.
In the past few years, the number of Canadian-friendly poker sites has exponentially risen. Due to liberal gambling laws in the country, Canada-based poker players can join hundreds of poker sites. Here, they can compete in high-stakes tournaments and claim superb promos that will keep them ahead in the game and boost their chances of winning.
But are all of these sites trustworthy? Hardly.
Think of us as your guide on your journey that will ultimately lead you to the best Canadian poker sites. Somewhere along the way, we're going to present some of the most salient facts about the online poker industry. When it's all said and done, you'll gain knowledge of:
What are we waiting for? Let's roll!
Best Canadian Online Poker Rooms
Finding a trustworthy poker site can be a burdensome task. There are plenty of landmines you can step into — blacklisted operators with a dreadful reputation for scamming players. And beyond that, you have to know the ins and outs of the poker industry to be able to recognize a potentially great poker site. You can try doing it on your own, but it's time-consuming and straight-up boring.
We have a better proposition. Why don't you let us do the heavy lifting for you? We do this kind of stuff for a living, and so far, none of our readers have ever been disappointed with our picks. Tell you what, why don't you try out one of our recommended sites below, snoop around a bit, and if you don't like what you see, feel free to leave. Deal?
How Do We Rate Canadian Poker Sites
The majority of our selection process comes down to comparing and contrasting different sites. Every operator must pass a range of strict criteria before we recommend it to our readers. During our rigorous testing procedures, we get down to the nitty-gritty analysis of every aspect, from licensing and bonuses to customer support and banking.
We wanted to be as open and honest as possible about our recruitment process. Below, you'll see how we go about our business. After seeing how much effort we put into this task, we're pretty sure that you'll feel more comfortable about putting your trust in us.
Complete Background Check
Before we start dissecting gaming-related areas, we need to make sure that the poker site we're reviewing is legit. How do we do that? To begin with, we check up on the brand's reputation and look for any red flags. If it checks out ok, then we head over to the homepage, looking for a stamp by an esteemed licensing jurisdiction. Validation by a respectable regulatory body tells us that the poker room has done its utmost best to provide a safe and fair gaming setting.
Unfortunately, not every regulated poker site is 100% secure. To warrant maximum security, each operator must use SSL encryption and the latest firewalls to protect its servers. Only then can we be sure that our readers' money and personal details are kept hidden from unauthorized access, meaning hacker attacks. 
Is the Game Assortment Diverse?
How many SNG tables does the operator have? Are there any high-limit games? Is the competition soft? What about ring games? Are there any variants besides Hold'em and Omaha? The potential candidate needs to give us a positive answer to all of these questions. The goal is to find a poker site that has plenty of SNGs and ring games is suitable for both recreational players and high rollers and has several poker variations on offer. Preferably, it should also have a couple of fishy tables for beginners who are learning the ropes.
Is The Bonuses More Generous than its Competitors?
This is something that draws the most attention among players. We've all seen exquisite bonus offers worth thousands of dollars. But is there an even more lucrative welcome bonus on the market? To determine this, we compare sign-up offers of hundreds of poker sites. If the poker operator offers a monster welcome package for newcomers as well as different kinds of ongoing promos, it's most likely going to end up on our list.
But it's not all about the size. If the bonuses have unfriendly terms and conditions, it's almost impossible to win anything. That's why we also consider wagering requirements, minimum deposit requirements, and other restrictions. 
Performance on Desktop and Mobile Devices
The software that powers the poker site must run smoothly across all devices. You surely don't want to end up getting disconnected in the middle of your session due to some bugs or technical glitches.
When reviewing poker sites, we do a benchmark test on the poker client to see how it performs on different devices. If the response time is low and the site works seamlessly on both desktop and iOS/Android devices, we give it a green light. Also, the platform needs to be neatly organized so that you can find your way around with ease. 
Robust Traffic is Vital
Obscure and up-and-coming poker sites tend to have weak traffic, which means that you have to wait for an eternity for the tables to fill up if you sign up at these places. Strong traffic is a hallmark of every renowned poker brand. Top-notch poker sites have thousands of users, meaning that their tables get loaded pretty quickly, and even more important, you can compete against players of various skill levels. 
Attentive Customer Support Is a Must
We know that many of you guys think that you can do everything on your own and that you need help to get settled in. But the chances are that you're likely going to need someone to show you the way — how things are done. Maybe you'll need help during registration or perhaps you can't figure out how to deposit funds onto your account. That's why, when something like this occurs, you'll need to have amiable customer support at your disposal.
In our humble opinion, customer service needs to be available at all times via live chat and/or email. More importantly, support representatives have to be polite and efficient in solving players' queries. 
Is There An Extensive Range of Payment Methods
The more payment methods a poker site has, the smoother it will be for you to
make deposits and withdrawals
onto your account. Some banking options are not available to Canadians, which is why it's always good to have a couple of '
spare
' ones at your disposal. It's also important to check out the fees associated with each type of payment. You don't want to be ripped off every time you top up your account. 
Is Online Poker Even Legal in Canada?
Officially, online poker is neither legal nor illegal in Canada. The Canadian iGaming market is just starting to blossom, and the laws that regulate gambling in the country are still complex and borderline obsolete. In other words, there isn't yet a regulatory framework that specifically addresses online gambling in Canada.
With that in mind, Canadians are allowed to sign up with offshore poker sites. These brands are registered in licensing jurisdictions across the globe, and the Canadian government doesn't have any kind of authority over them. So, even if you get caught playing poker on these sites, you wouldn't be prosecuted by the lawmakers. There isn't anything in the statutes that specifically forbid gambling on offshore sites. Worst case scenario — the government blocks your access to gambling sites. But even that is highly unlikely.
Federal Law Regarding Gambling in Canada
To help you get a clearer picture of the legal status of online poker, we'll take a short trip down history lane. We'll go back to the 19th century when it all started.
The first gambling laws in Canada were created in 1892. That's when the lawmakers decided to horse racing betting, charity lotteries, and raffles. Canadian casino gamblers were left in the dark until 1985 — the year in which the Federal Government changed the Criminal Code to hand off all gambling activities to individual provinces.
When the provinces got the green light to regulate gambling however they wanted, it paved the way for new opportunities. Canadian market opened up, allowing foreign operators to offer their services to Canadians.
What's interesting is that when the Federal Government transferred all regulatory obligations to individual provinces, it didn't change the Criminal Code in terms of what people are allowed to do and what's forbidden.
According to the Criminal Code, it's illegal to operate a gambling site from within Canada. But there is a paradox to all of this. Namely, some of the world's offshore leading poker brands have their servers based in Canada and are licensed by the Kahnawake Gaming Commission.
So, despite gambling being considered illegal in the country, the Mohawk Tribe has declared itself a sovereign nation, and therefore doesn't have to oblige by the Federal Law.
Different Types of Games in Canadian Poker Sites
The majority of the poker world is hooked on Texas Hold'em. This variant is widespread across all gaming establishments that offer poker games, both online and offline. But what about other poker formats, can you try out something else besides Hold'em on Canadian poker sites? Of course, you can. In fact, there is a versatile collection of poker games available on each of our featured sites.
Texas Hold'em
Easily the most popular poker variant in Canada, Texas Hold'em is played in the World Series of Poker — the most prominent poker tournament in the world. The rules are pretty simple; players are dealt two-hole cards and wait for five community cards to be revealed.
There are four betting rounds in total. The first gets underway once the hole cards are dealt; the second one takes place after the flop (when the community cards are revealed) and then the last two betting rounds unwind after the turn and the river. The goal is to make the best possible combination of 5 cards (their hole cards + the community cards). 
Omaha
Much like Hold'em, Omaha features four betting rounds but follows slightly different rules. Namely, each player is dealt four cards at the beginning, and all five community cards are instantly revealed. It's up to you to form the best 5-card hands from two-hole cards and three community cards.
7-Card Stud
This is by far the simplest version of poker. Unlike Omaha and Hold'em, 7-card stud doesn't use hole cards and community cards. Instead, each player is dealt with their hand, consisting of 7 cards (hence the name). Some of these cards are dealt face down (hidden from players), and some are dealt face up (everyone can see them). There are five betting rounds, and players must make the best possible 5-card combination out of their 7 cards. 
5-Card Draw
In a Five-card draw, each player is dealt 5 cards but can discard 3 of them, and pick up from the deck as many cards as he or she discarded. The aim is, of course, to make the best possible 5-hand combination. 
Razz
This version may be a bit confusing for beginners because the object is to make the best five-card low hands from the seven cards you're dealt. The ace is considered the lowest, therefore, the strongest card and the best possible hand combination is 5-4-3-2-A — this is called the bicycle or the wheel.
Tournaments in Canadian Poker Sites
Online poker tournaments come in various shapes and forms. From small to high-stakes, there are competitions for players of various budgets and skill levels. The most popular types of poker tournaments are:
MTTs (Multi-Table)
This poker tournament consists of many different tables; the precise number varies from 10 to a few thousand, depending on how many players have signed up for the event. Each table has nine to ten players and when more than half of the players at one table are eliminated, the winners will merge with another table. The process goes on until a group of ten players forms the final table. MTTs can sometimes take a couple of days to finish.
SNGs
Stands for Sit-and-Go, and is a single-table tournament that starts as soon as the table fills up. SNGs follow the knockout format where the loser of each match is instantly eliminated. These tournaments are fast-paced and great for beginners who want to learn the fundamentals of the game.
Shootout
The principle of shootouts is similar to MTTs. Each player must win his or her table to qualify for the next round, and ultimately the final table. The great thing about shootouts is that they boast huge prize pools.
Mobile Poker in Canada
Mobile poker gives you the flexibility of being able to play your favourite cash games and tournaments anytime, anywhere. You can avoid getting neck spasms from sitting at your PC for hours. With mobile poker, you can lay back and chill on the couch with a couple of poker rounds. Or you can get in on the action while commuting from work or during the lunch break — the possibilities are limitless.
There are two ways to play mobile poker. One is via a browser-based client, which is a replica of the desktop version. All the games will be at your disposal along with popular features like live chat and cashier. Best part? You don't have to download anything. The browser-based, or instant-play mobile poker site is accessible via all the popular browsers, including Chrome, Safari, Mozilla and Opera. Most mobile poker sites are HTML5-based, which means that you don't even have to own a modern device to play on-the-go poker. It works smoothly across all devices.
The other way is via dedicated poker apps. Some poker operators have released standalone apps for iPhone/iPad and Android users. These apps usually come with some handy features but are limited in terms of game variety. You can find the download links on the poker site and/or the Google/App Stores.
Playing Poker for Free
This is an option, too. The majority of Canadian poker sites allow their users to play the games for free — in demo mode. This can serve as a great learning platform for beginners who are still learning the fundamentals of the game. It's also useful for advanced players who want to test certain strategies and try out some tactics that are considered risky when playing for real money.
You can also get the feel of the poker site. For example, you can check out the software and see if it works as it's supposed to. If you run into any performance issues, maybe you should consider moving out to another site. And if you're satisfied with how everything works, you can switch to real money play.
Are There Any Bonuses for Canadian Online Poker Players?
You bet! In the fiercely competitive iGaming industry, poker brands use bonuses to draw players in and keep them engaged. These are essentially some sort of benefit, perk, or discount that can be used as soon as you sign up for an account and make the qualifying deposit.
There are several types of online poker bonuses. Below, we've outlined the most commonly offered ones.
Sign-Up Bonus
This is the first of the many gifts you'll be entitled to when you sign up with a poker site. To show their generosity and hospitality, poker operators will give you a chance to double or even triple your deposit sum. In total, you could get a couple of thousand dollars of bonus cash for the first deposit you make on the site.
The welcome bonus is usually expressed as a percentage, and its value depends on the amount of your deposit. For instance, you could be offered a 100% match bonus of up to CA$,1000. That means that the operator will match your deposit by 100% up to the maximum value of $1,000.
No Deposit Bonus
Much like the sign-up offer, no deposit bonuses are awarded to new customers only. But there are some notable differences between these two bonus types. The most apparent one is revealed in the name of the no deposit bonus — it doesn't require players to deposit. It's an entirely free gift and all that you have to do to get them is register. Right after registration, the poker site will transfer a small sum of cash (around CA$20) to your account. This is not withdrawable cash, though. You have to meet the playthrough requirements before being allowed to cash out any winnings. 
Reload Bonuses
Reload bonuses are almost identical to welcome bonuses, but with one distinguishing trait — they are being offered only to existing customers or ongoing players. Also, the match percentage of reload bonuses is usually lower than 100%, and it's somewhere around 50%, at best. 
Rakeback Deals
Rake is a small percentage of cash that the house, or in this case the poker site, takes for 'hosting' cash games and tournaments. It's usually between 4-10% of the share of total tournament buy-ins or the played pots (in cash games).
Rakeback promos give you a percentage of your generated rake back. Essentially, Rakeback is a cashback promo and a way for players to get rewarded for their play.
How to Make Payments on Canadian Poker Sites
The same way you'd do with any other online merchant. Just select a payment method, input the necessary details regarding your financial account, and enter the amount you want to deposit. In all Canadian poker sites, there is a whole host of banking methods to choose from, including several payment processors that are popular in Canada, This includes Interac, Mastercard, Visa, PaySafeCards, a couple of e-wallets and even cryptocurrencies.
Most poker operators in Canada don't charge any fees when processing deposits and withdrawals. As for processing times, these vary from one payment method to another. Cryptocurrencies such as Bitcoin and e-wallets are the fastest way of cashing out your winnings and the usual time frame is around 24-72 hours. Credit and debit card withdrawals take a bit longer to process, but you can expect the funds to be transferred within 2-7 business days.
Final Thoughts
That would be all, our fellow Canadian poker fans. We did our best to teach you the basics of online poker. Now, it's up to you to find the right poker site and test your newly-founded knowledge. If you're not sure where to look for quality poker rooms, take a peek at our exclusive list — you're surely going to find something that matches your taste.
Online poker should be considered a fun pastime, and nothing else. If it turns into an obsession, we advise you to seek professional help. Problem gambling is a severe condition that takes years to overcome.
So, stay strong, gamble responsibly, and good luck!
FAQ